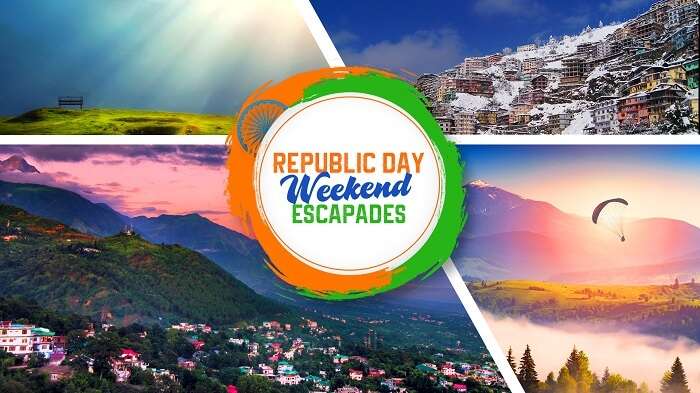 With the onset of 2022, travelers get to start fresh on their travel resolutions for the new year. As the country celebrates its 69th Republic Day, we believe that the overwhelming national feeling of patriotism, pride, and unity should be intertwined with the joy of travel.  So, why not make the most of it by going on one of the long weekend getaways from Delhi this Republic Day?
A new year always comes with new travel goals and this Republic Day (26th Jan) weekend is the first extended weekend of 2022 long enough to explore some wonderful jewels of the country. So, we decided to give you a handpicked list of short, medium, and long weekend getaways near Delhi to choose from. Have a look!
Short Weekend Getaways from Delhi
Long Weekend Getaways from Delhi
Yes, this Republic Day weekend is a long one and you can easily go on long trips. But if you still don't want to travel for long, there are some amazing quick weekend getaways near Delhi. These include Bir-Billing, Mukteshwar, Chakrata, Rishikesh, Kanatal, Kausani, Lansdowne, Chail-Shimla, Ranikhet, and Binsar. To cover these trips, you can leave on 26th Jan (Friday) and still be back by 28th Jan (Sunday).
1. Bir Billing: The paragliding capital of India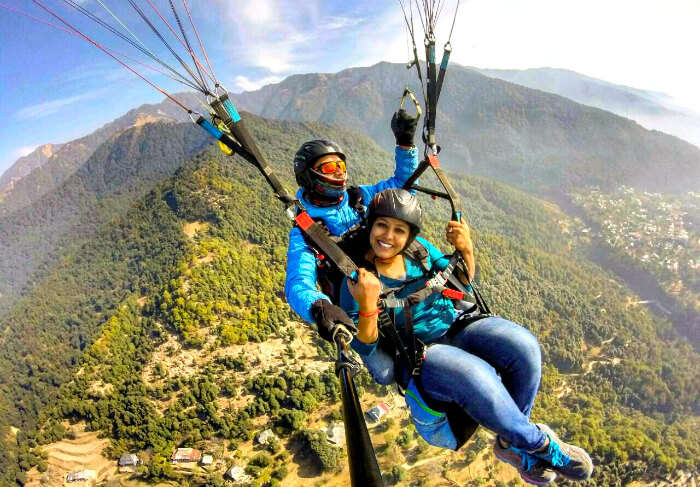 Bir Billing is one of the top-ranked places for paragliding in India. And why not? It was here that the first Paragliding World Cup was held. But that's not the only reason for it being one of the most delightful weekend getaways from Delhi.
a. After all, no one would mind the salubrious environment, far away from the polluted city life.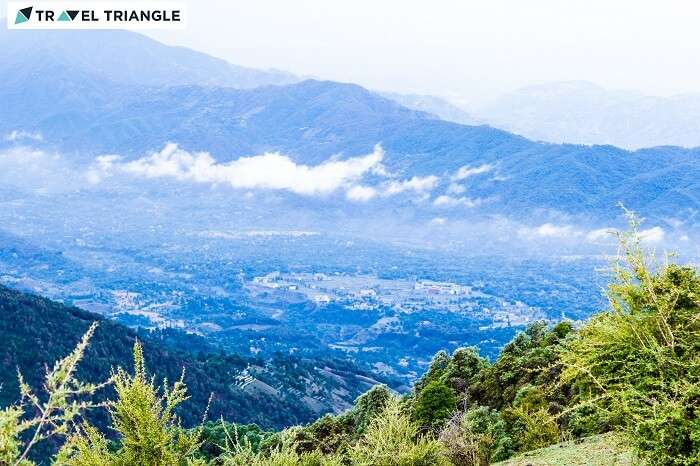 That's right! You get to not only beat the still hot-and-humid weather of Delhi but also spend some time in a healthy environment. Time to breathe in some fresh oxygen people!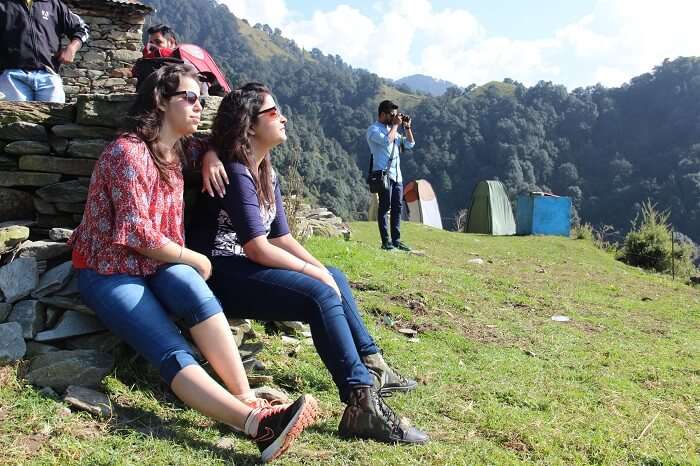 b. Billing is said to be the best paragliding take-off point in the world.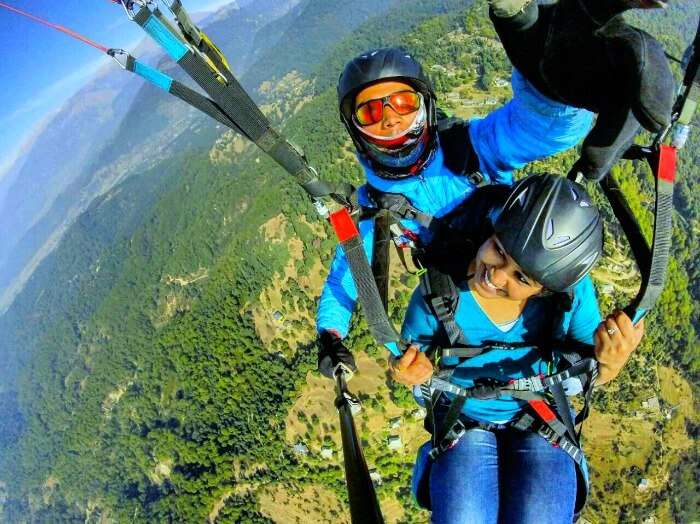 Located at an altitude of 2,400 m above the sea level, Billing is the perfect take off-site for paragliding. And Bir, the landing site, is located at an altitude of 1,340 m. This landing site is only a few meters from the camp area. Travelers will have to take a trek from the campsite to reach Billing, before experiencing the thrill of paragliding in Bir Billing.

c. Camping in Bir Billing is a wonderful experience in itself.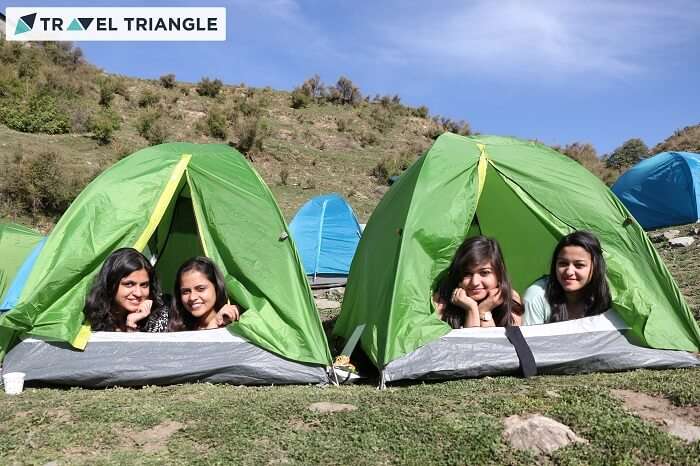 The campsite, like most other Himachal destinations, offers scenic views. Another thing that one can expect from camping in Bir Billing is the serenity that the twin towns boast of. Moreover, camping allows the travelers to have an amazing experience with friends and other fellow travelers. Bonfires, stargazing, live music, and snacks; yes, that's about everything that one wants from camping. Right?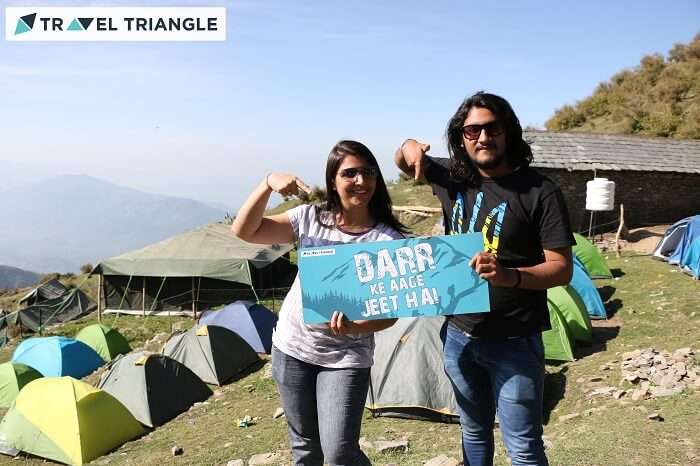 Must Read: Paragliding, Bonfire, & Shooting Stars: Her Whimsical Weekend Adventure In Bir Billing Is Stealing Hearts
---
Long Weekend Trips Starting @ Rs 3,599/-
Take a trip to spend the upcoming long weekend with your buddies.
✓ Stay at 4 star rating hotels with local sightseeing, meals and transfers.
✓ Travel in AC coach round trip (from Delhi).
✓ All Inclusive Deal– Camping, Jeep Safari & Trekking as per itinerary
✓ Sign up NOW to celebrate the long weekend out of town!
---
2. Mukteshwar: A treat for adventure seekers in nature's lap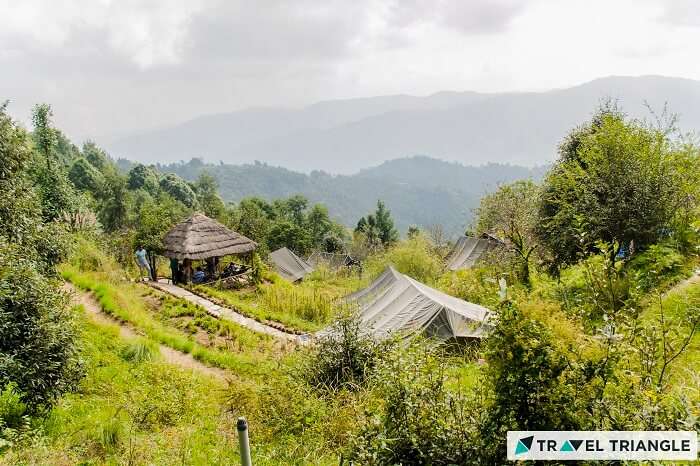 Mukteshwar, a small town amidst dense & evergreen pine forests in the Nainital district, makes for a wonderful weekend getaway from Delhi. Its unspoiled beauty, splendid 180° views of the Himalayas, camping facilities, and various adventurous activities have made this off-beat destination into a favorite for nature lovers.
a. The valley offers unspoiled beauty and utmost serenity.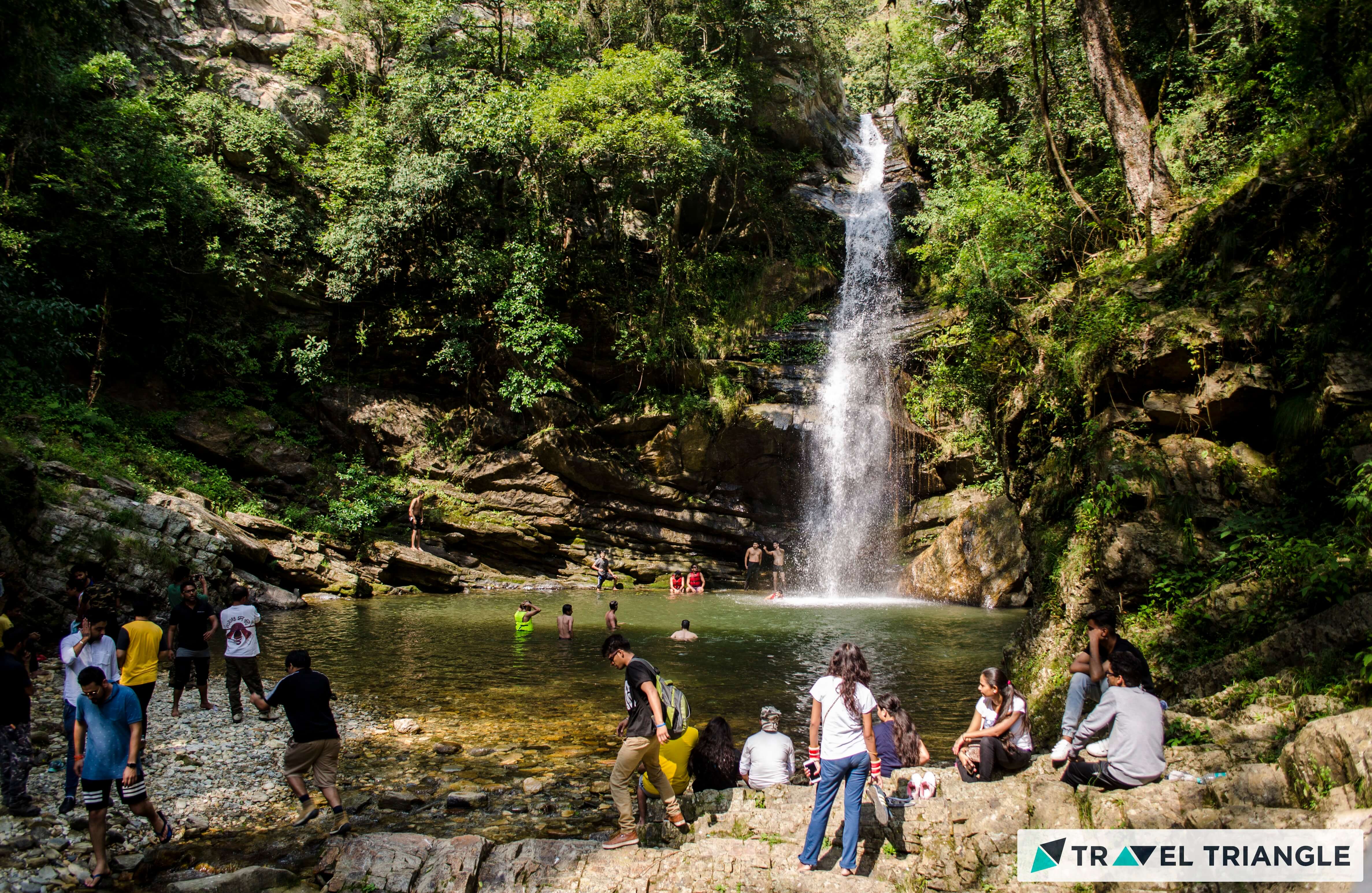 When in Mukteshwar, make sure to check out the verdant hills, green valleys, and glittering waters of the Bhalu Gaad waterfall. These elements of nature allow for wonderful experiences of nature walks, trekking, hiking, and even bird watching.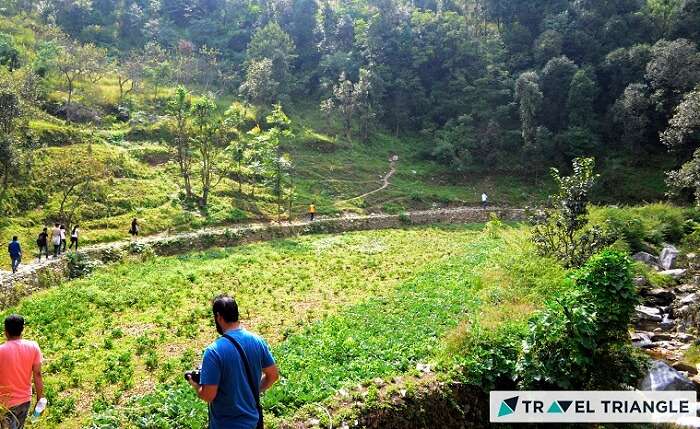 b. Camping in these valleys is definitely fun.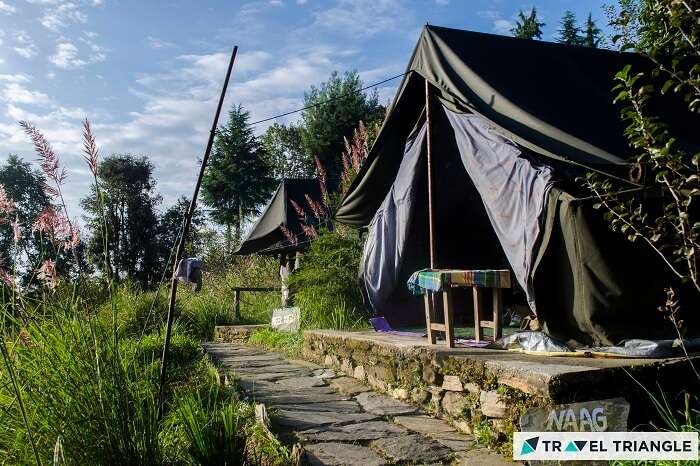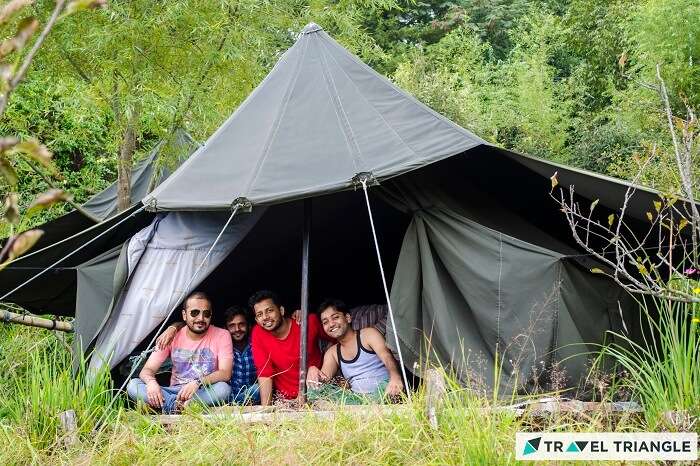 Must Read: Abhishek's Mukteshwar Trip Is An Inspiration For Those Wanting An Escape From Their Hectic Lives
The campsites in Mukteshwar are located on grassy lands of the stepped-farms. Camping in Mukteshwar in a group can be a fun-filled experience with bonfires, live music, and interactions with fellow travelers.
c. Adventure seekers have a lot to try in the offbeat destination of Uttarakhand.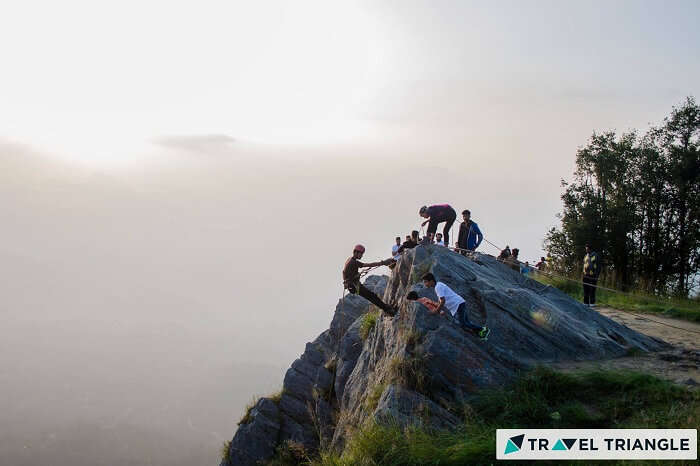 Trekking, paragliding, rappelling, and rock climbing are some of the most adventurous things to do in Mukteshwar. These thrilling activities ensure that one has a lot of experiences to take back from the destination.
Must Read: 8 Fun Things To Do In Mukteshwar In 2022 For A Kickass Weekend Retreat
d. And there's shopping and sightseeing for the less adventurous ones.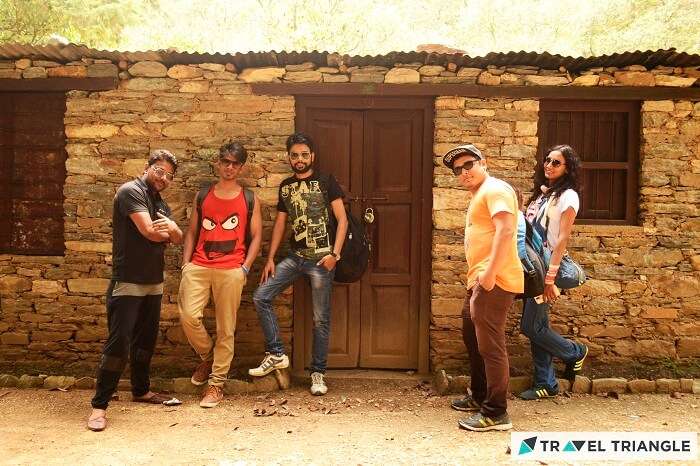 Chauli Ki Jali, Mukteshwar Inspection Bungalow, Bhalu Gaad waterfalls are some of the major tourist places in Mukteshwar. In addition to these, there are some charming temples dedicated to the Pahari Gods. These include Mukteshwar Mahadev Temple, Brahmeshvara temple, Mukteshwar Dham, and Rajarani Temple. Also in this town are Chocohouse Chocolatiers and Kilmora Shop from where you can pick some souvenirs.
3. Chakrata: An offbeat hill retreat near Dehradun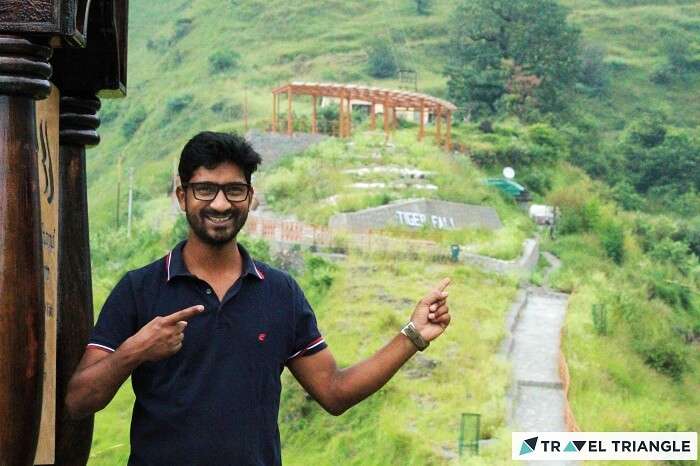 The scenic hill station of Chakrata in the Himalayas is often praised for its serenity and charming views. Far away from the touristy chaos & noises, Chakrata offers a few points of interest. And then, there are some other reasons that make this destination one of the best weekend getaways from Delhi for a peaceful break this Republic Day.
a. To begin with, the destination offers serenity and beauty.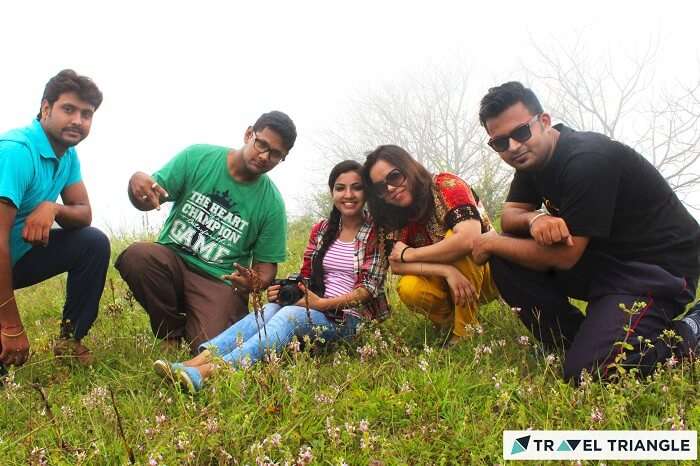 Must Read: Kanika Embarks On A Budget Solo Trip To Chakrata To Continue Her Family Legacy
Sprawling grounds with greenery all around have an aura of serenity attached to them. And with the verdant peaks and the shimmering waters of the waterfall, the destination never falls short on its beauty quotient.
b. The resorts with camp facilities are idyllically located amidst the hills.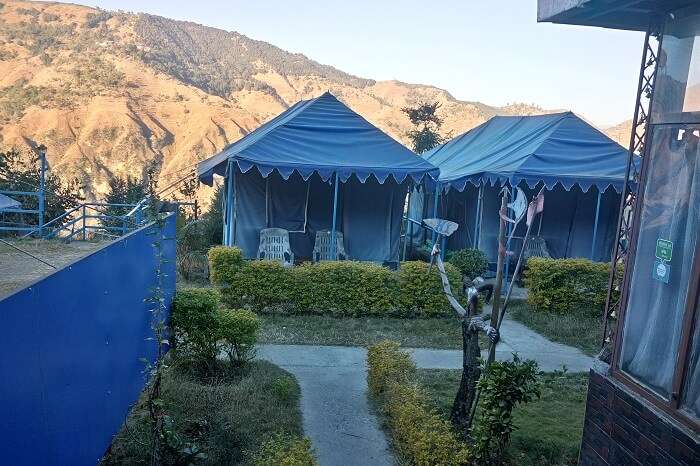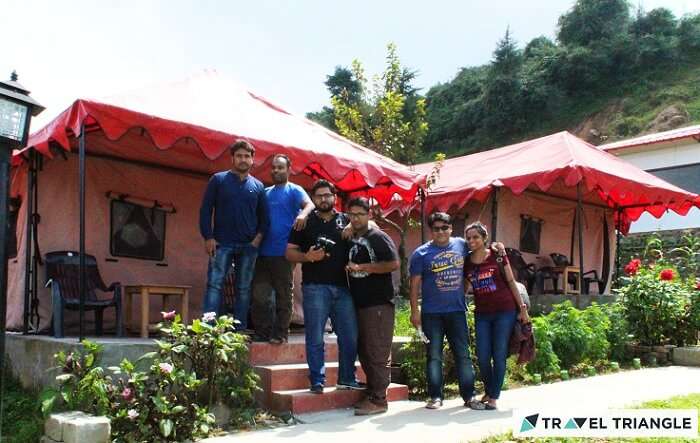 Must Read: Taking The Offbeat Route: How I Fell In Love With Chakrata
The camps themselves are beautiful. Furthermore, they are equipped with all basic amenities that ensure a comfortable stay on your weekend trip from Delhi to Chakrata.
c. Exciting activities are available for the daring ones.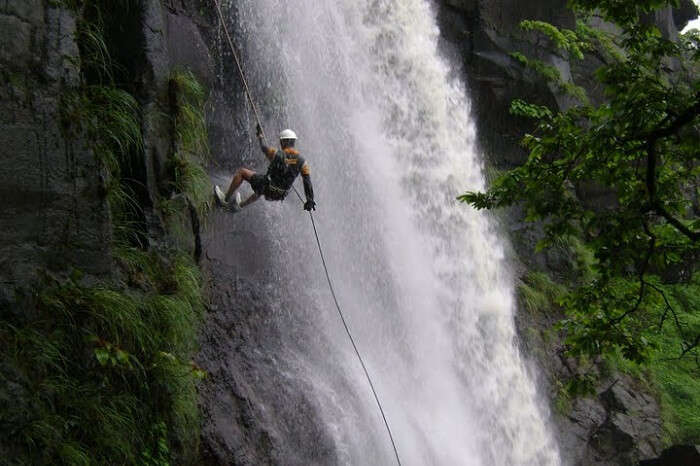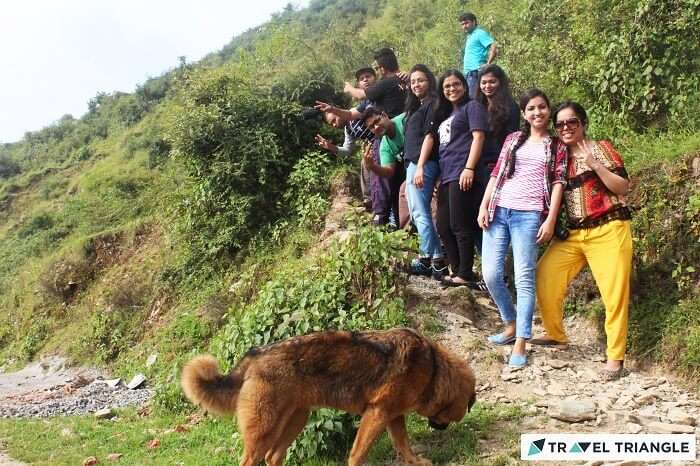 There are myriad things to do in Chakrata, each different from the others in the level of thrill and adventure. These include waterfall rappelling, rock climbing, river rafting, cycling, trekking, horse riding, and camping.
4. Kanatal: The destination with a one-eyed lake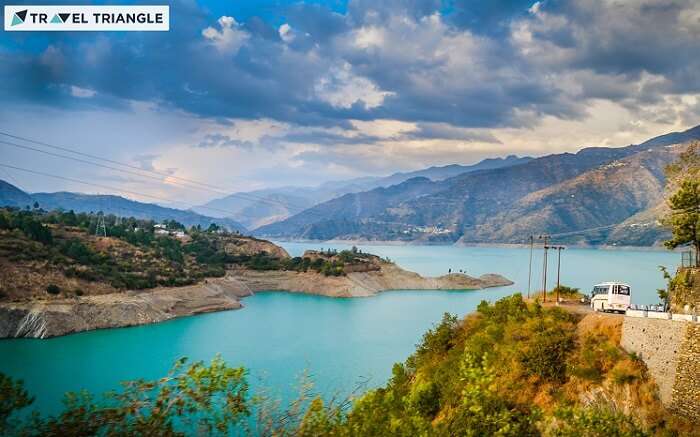 Located very close to Dhanaulti are Kanatal and Tehri that serve as wonderful weekend getaways from Delhi for those who wish to try both water and land adventure sports. And the plethora of the things to do in Kanatal is even accompanied by beautiful landscapes & sightseeing attractions.
a. The beautiful landscape itself will leave you awestruck.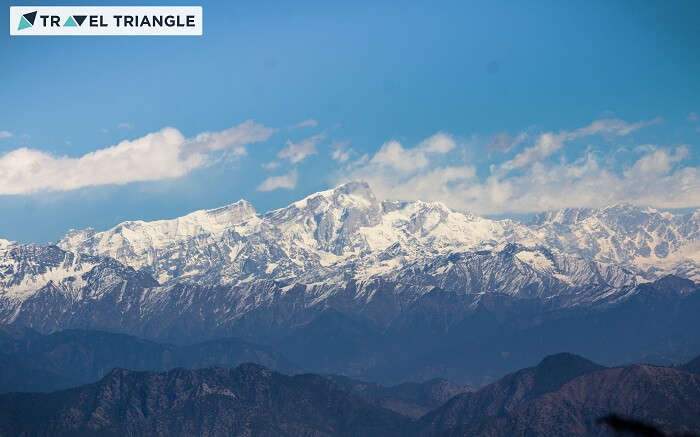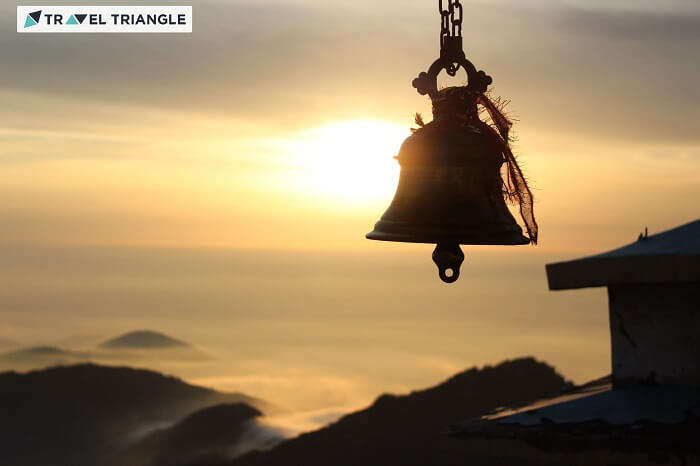 You will be mesmerized by the views of the snow-capped mountains and the azure waters. And as the sun gets ready to set, the reddish-orange hues of the hill-covered skyline further add to the beauty of this place.
b. Just like the neighboring site of Dhanaulti, Kanatal too is famous for camping.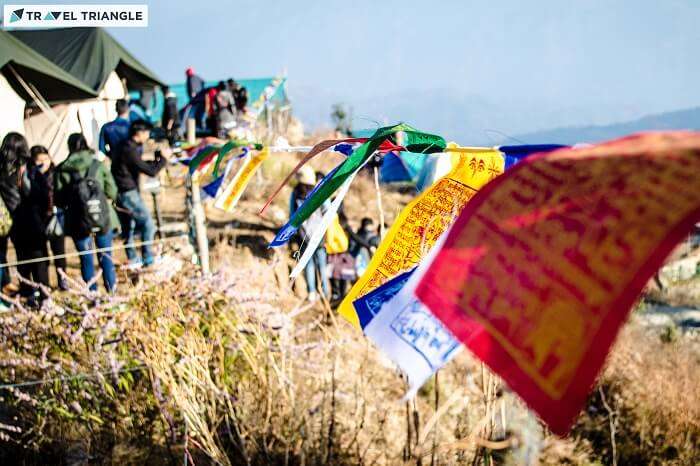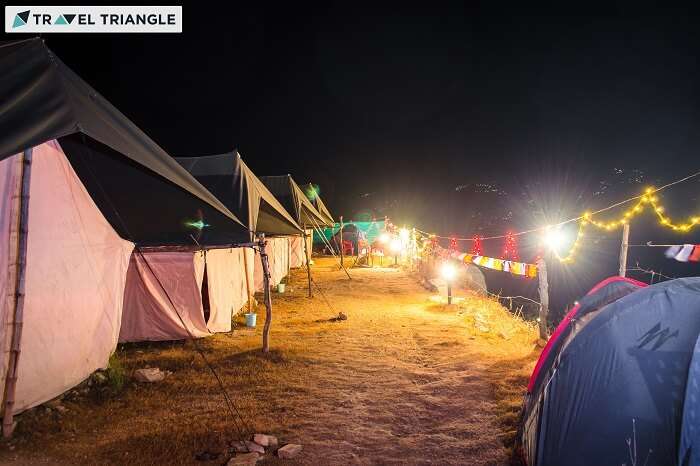 Most travel & adventure enthusiasts recognize this destination as a camping delight. Spend an evening enjoying bonfire & stargazing, wake to the early morning chirping of the birds, and spend a day in nature's lap; camping in Kanatal allows all this and more.
c. And when it comes to adventure activities, Kanatal has a bundle full of it.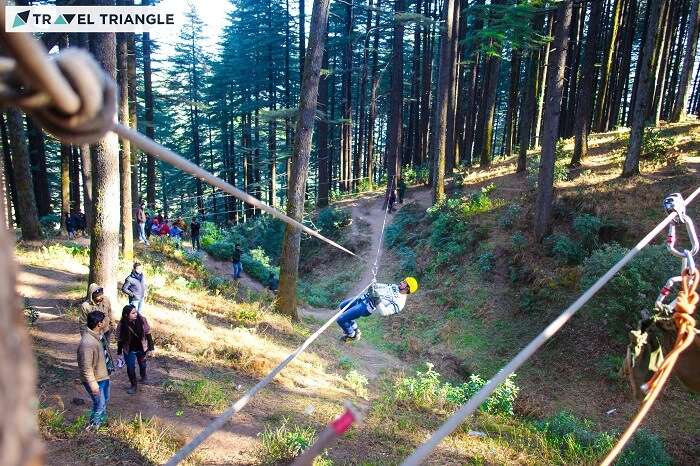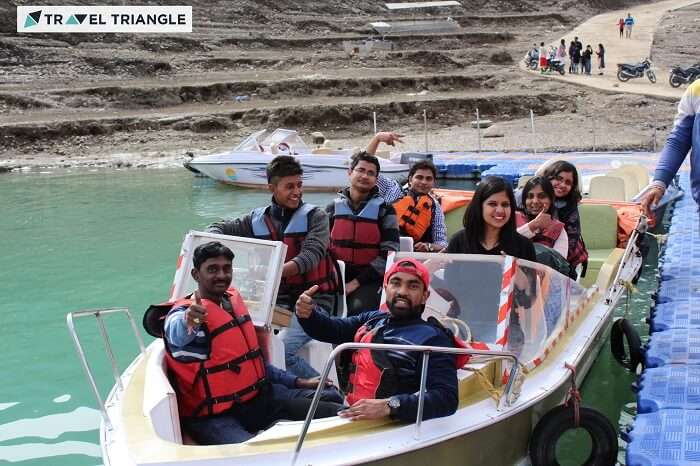 Must Read: Best Things To Do On A 2 Day Weekend Trip To Kanatal
Rappelling, rock-climbing, and valley-crossing are synonymous with Kanatal. These are often accompanied by nature walks. And when you are done with the best things to do in Kanatal, head to Tehri for some water activities like jet skiing and speed boat rides.
d. Regardless of whether you're religious or not, the Surkanda Devi Temple is a must-visit.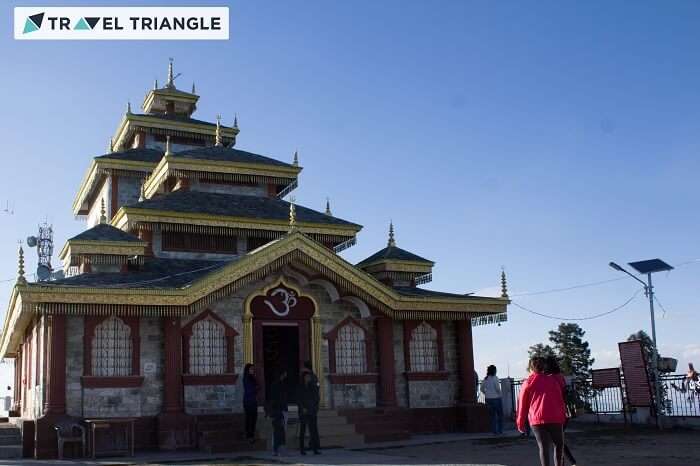 A short road journey of 5 km, followed by a comfortable trek of about 2 km, will take you to the Surkanda Devi Temple. The temple dedicated to Goddess Sati lies at an altitude of 2,757 meters in the Tehri district.
5. Lansdowne: The hushing environs of the Garhwal Himalayas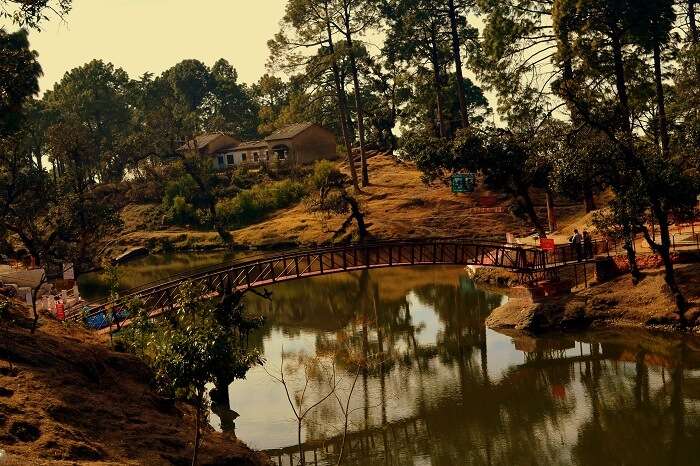 Named after a former viceroy of British India of the same name, Lansdowne sits idyllically amidst thick oak & pine forests in the Garhwal Himalayas of Uttarakhand. And, for some good reasons, the destination has made its way onto the list of the best weekend getaways from Delhi. And there are some good reasons that led to the inclusion of Lansdowne in this list.
a. The destination will enchant you with its imposing peaks and lush meadows.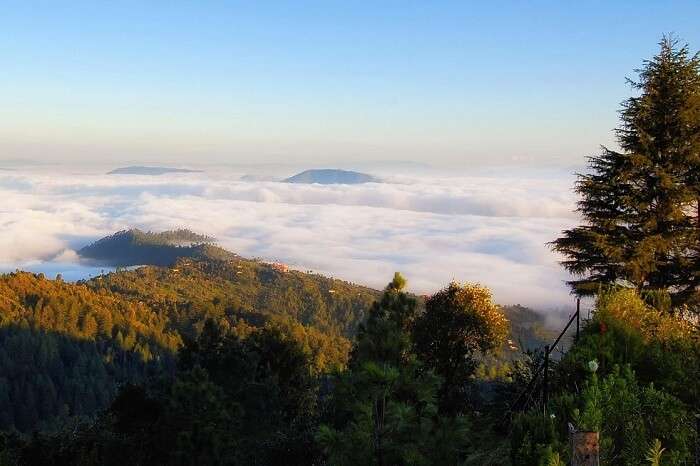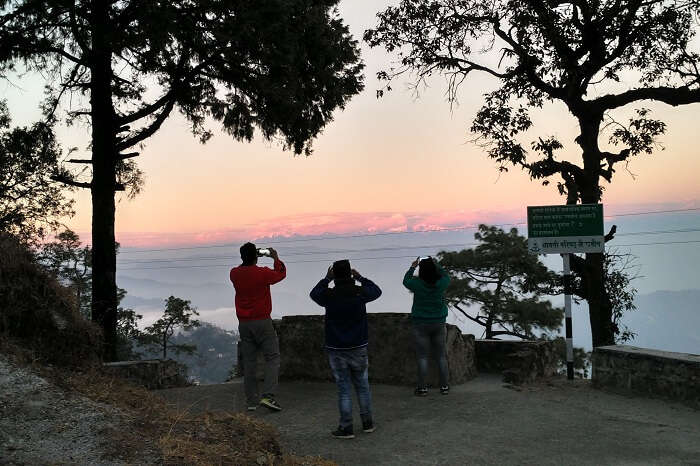 Must Read: Tushar's Unusually Refreshing Solo Trip To Lansdowne Was The Best Stress Buster He Could've Asked For
The destination is bestowed with mystic surroundings and nature's beauty that mesmerizes one and all. And nestled in the picturesque landscape are some wonderful campsites.
b. The campsite by the river Kho is perfect for a weekend retreat.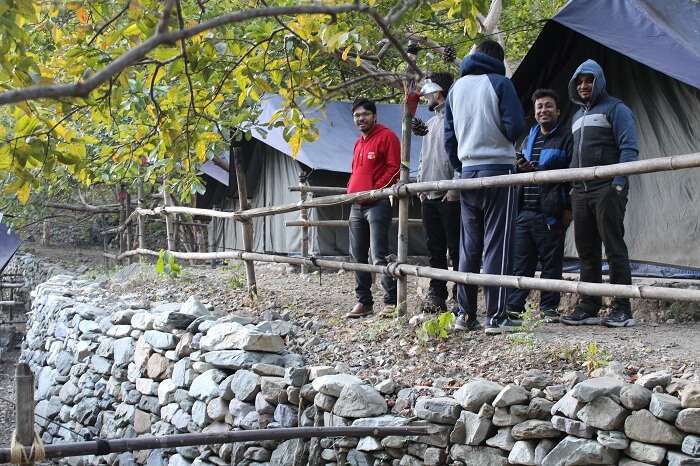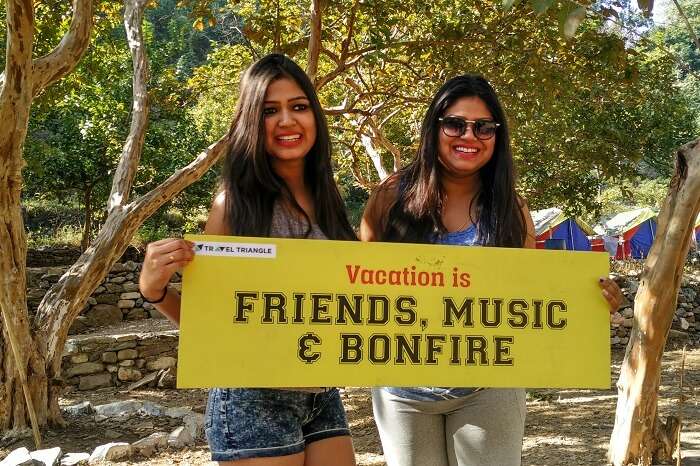 Must Read: 14 Things To Do In Lansdowne To Have A Refreshing Getaway With Pals In 2022!
The banks of the river Kho are perfect for camping in Lansdowne. Relax in the lap of nature, sleep under the starry skies, and enjoy bonfire by the river. Light adventure activities like flying fox, rappelling, and trekking can also be enjoyed.
c. And the unique tourist place is lined with many tourist attractions.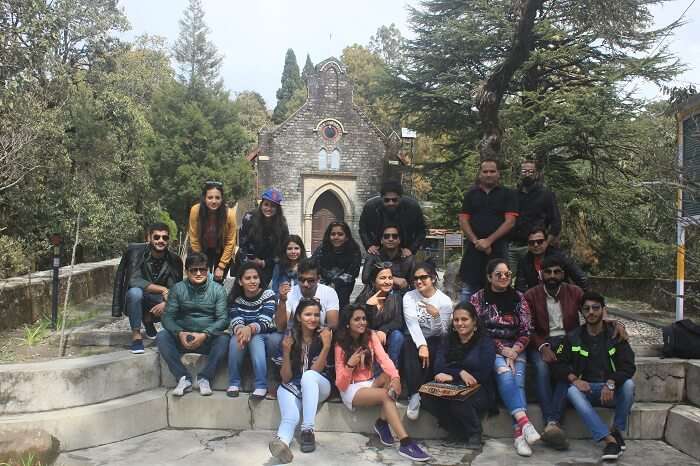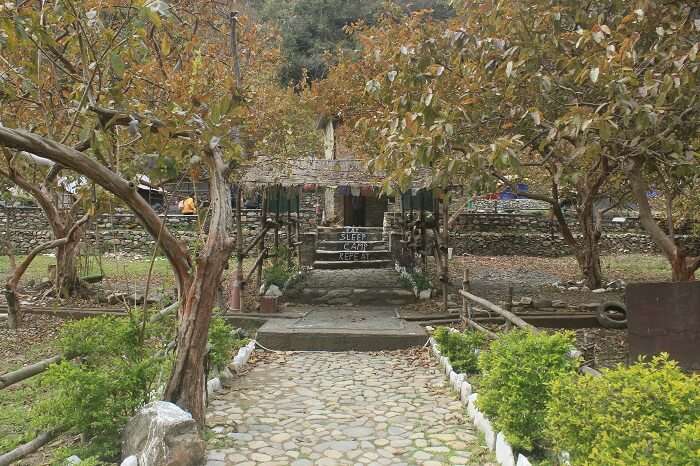 There are viewpoints, memorials, water bodies, and even religious places. And each of these
places to visit in Lansdowne
offer a host of fascinating experiences.
6. Rishikesh: Spiritual, adventurous, and every bit of fun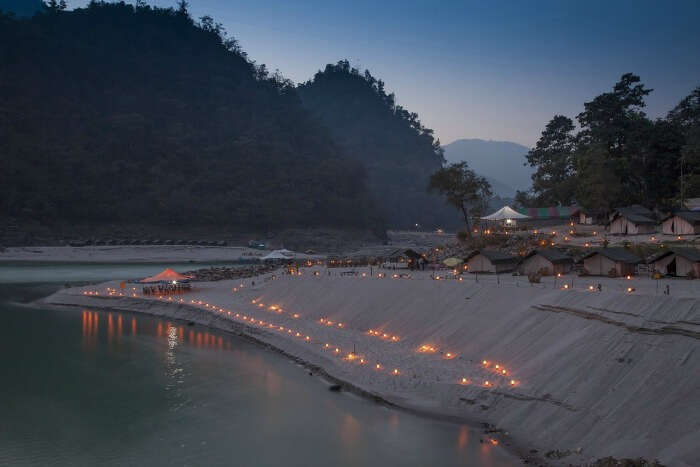 For a long long while, Rishikesh was believed to be only a religious destination. Its Ram Jhula, Laxman Jhula, and Triveni Ghat by the river Ganges charmed the travelers all this while. But it wasn't long before some adventurous & other spiritual places to visit in Rishikesh emerged on the tourism scene. And much recently, the destination has become one of the most sought-after weekend getaways from Delhi for numerous reasons.
a. The Ganga ghats offer some splendid views.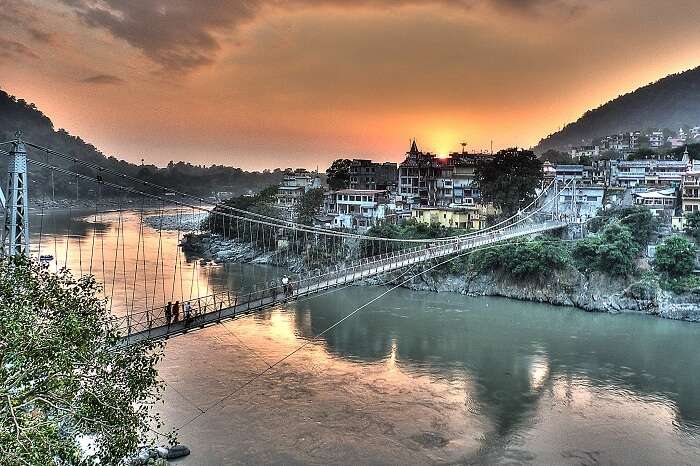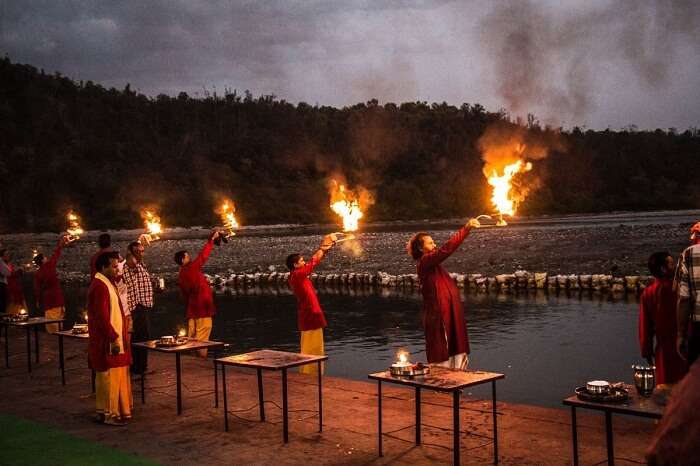 There is an omnipresent aura of spirituality and peace in every nook and corner of the holy city. And a lot can be credited to the serene views that the destination offers. And, as the sun sets, the ghats pull one and all for the Ganga Aarti.
b. The riverside campsites are every bit of beautiful.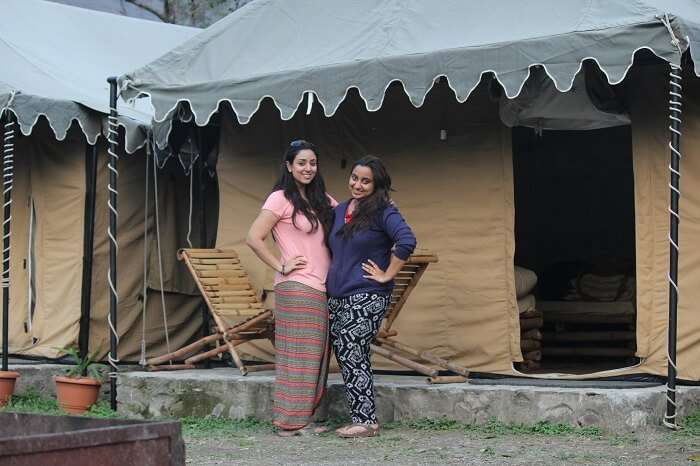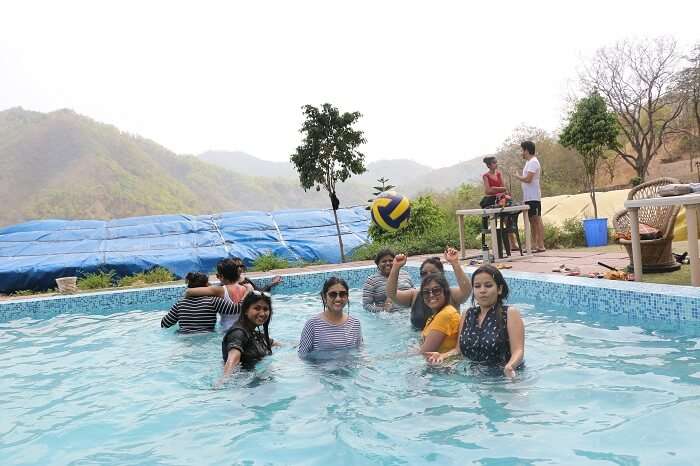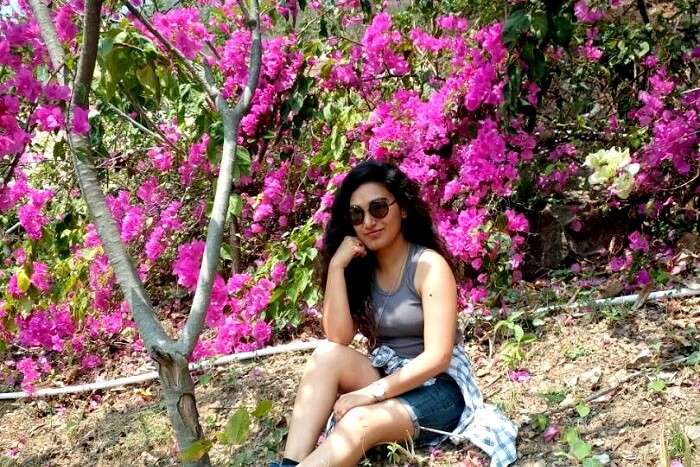 Must Read: All About Relaxing On A 2-Day Weekend Getaway In Rishikesh
Were it not for the camps on the banks of the river Ganga, Rishikesh might not have become so popular among the youngsters. And the camps are comfortable, with some that even come with luxurious amenities like swimming pool. And, in addition to these amenities, there are vast stretches of green with colorful flowers that are pleasing to the eyes.
c. And the destination offers arguably the best rafting experience in India.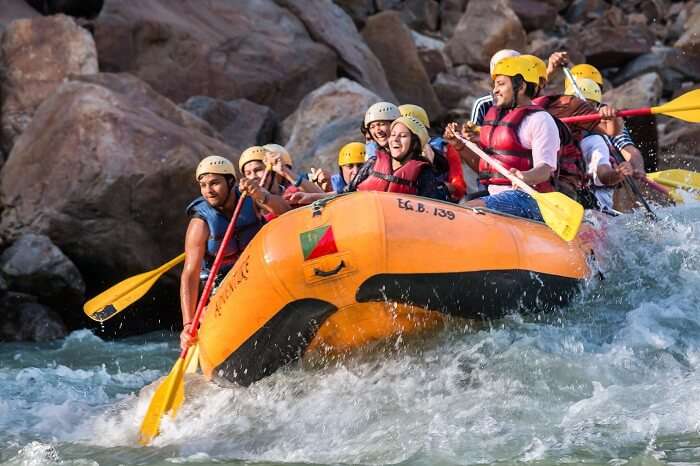 It is hard to resist the temptation to ride the rapids of the Ganges. And depending upon the level of difficulty that you want, there are different stretches for river rafting in Rishikesh.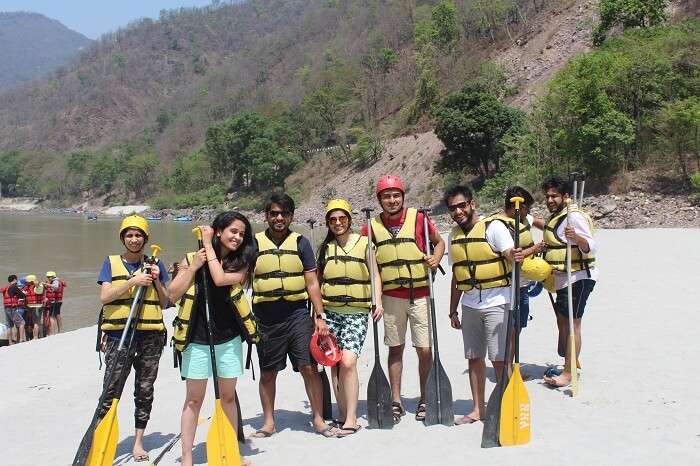 Must Read: Adventurous 1N/2D Friends Trip: River Rafting In Rishikesh
d. And that's not the only adventure activity to engage in.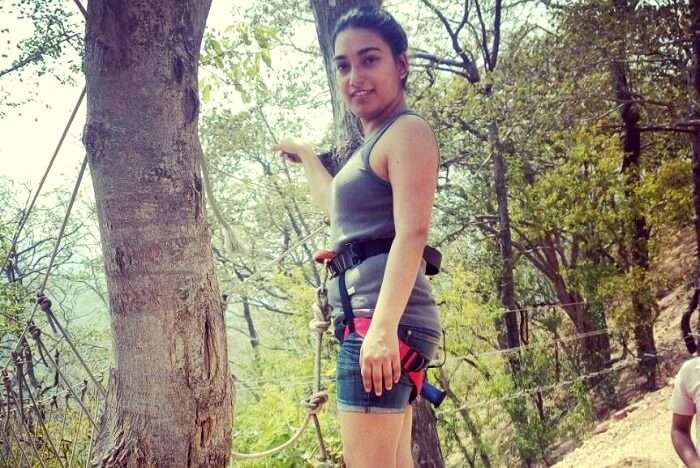 Other adventurous things to do in Rishikesh include rappelling, rock climbing, valley crossing, flying fox, body surfing, and kayaking.

However, the activities the daring ones have their eyes on are cliff jumping and bungee jumping. In fact, Jumpin Heights in Rishikesh offers one of the best experiences of bungee jumping in India.
7. Binsar: The beautiful Himalayan hamlet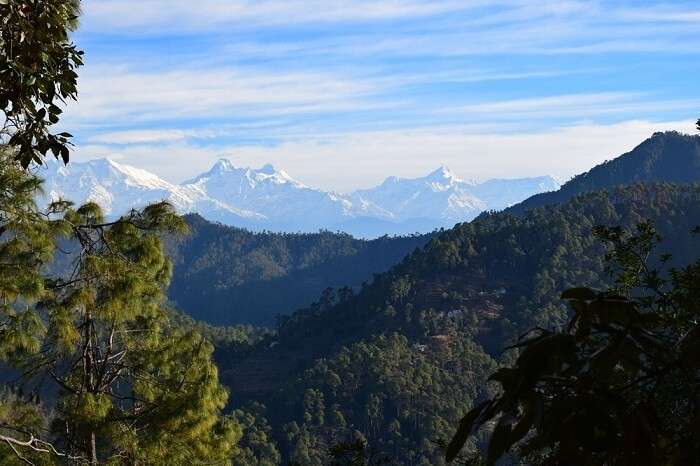 On the top of the Jhandi Dhar hills lies the little Himalayan hamlet of Binsar. Perched at an elevation of 2420 meters, the scenic Kumaon town offers a vivid splash of colors at different times of the day; owing much to the snow-capped Himalayas.
a. You will be able to catch spell-binding views of the majestic Himalayan peaks.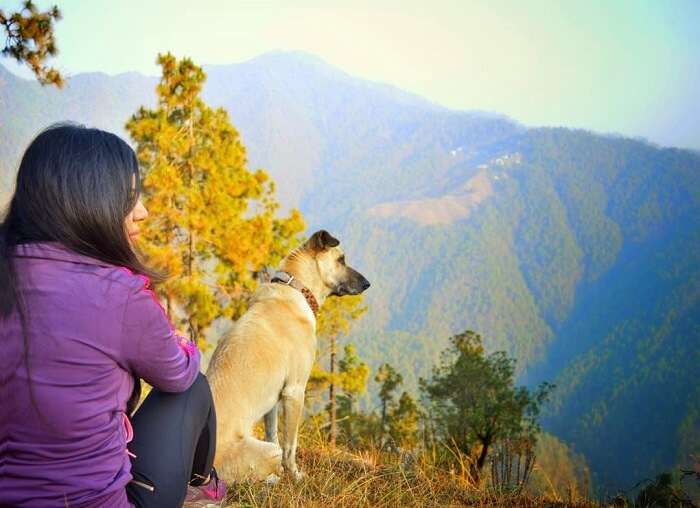 The little hamlet in Uttarakhand offers splendid views of hills such as Nanda Devi, Chaukhamba, Nanda Kot, Panchachuli, and Kedarnath. And for uninterrupted panoramic views, one can head to Zero Point.
b. The thick foliage allows several forest hikes.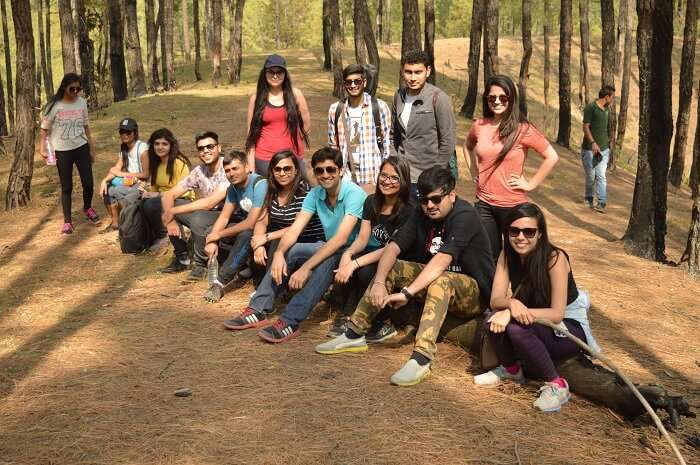 The tiny hill town is wrapped up in thick foliage, thereby making it a wonderful place for hiking, camping, and walking through nature. Night treks through the woods are also available. And for those who have enough time, there's also the Binsar Wildlife Sanctuary that serves as a home to the rare species of birds, animals, and flowers. Furthermore, there's a river stream that flows at the bottom of the woods.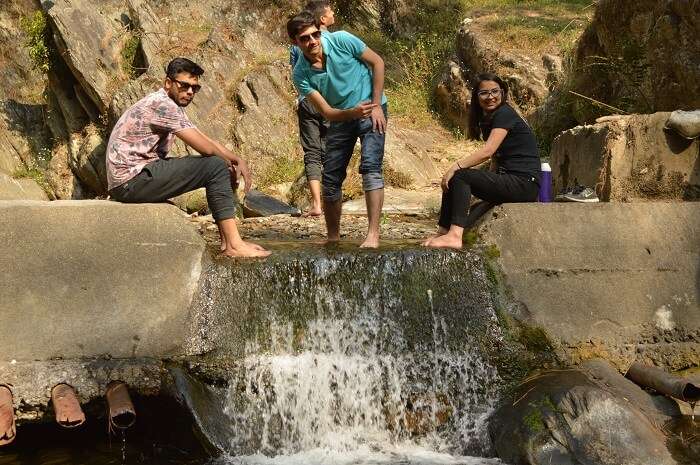 Must Read: Scenic 1N/2D Nature Treks In Binsar
c. And there are myriad stay options here that are comfortable and beautiful.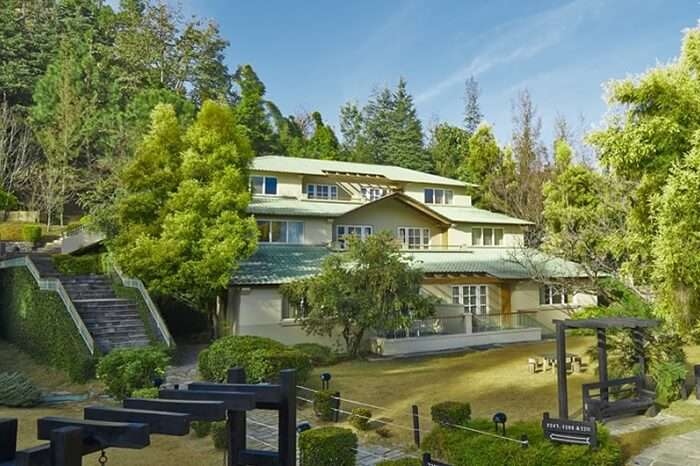 Yes, camping in the woods is still the most preferred stay option. But the resorts in Binsar offer a range of amenities that ensure a comfortable stay in some of the most beautiful settings.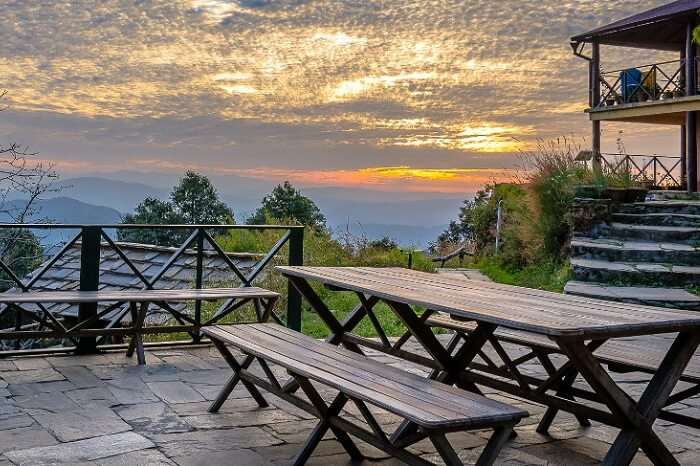 8. Kausani: The dreamland writers talk about in fairytales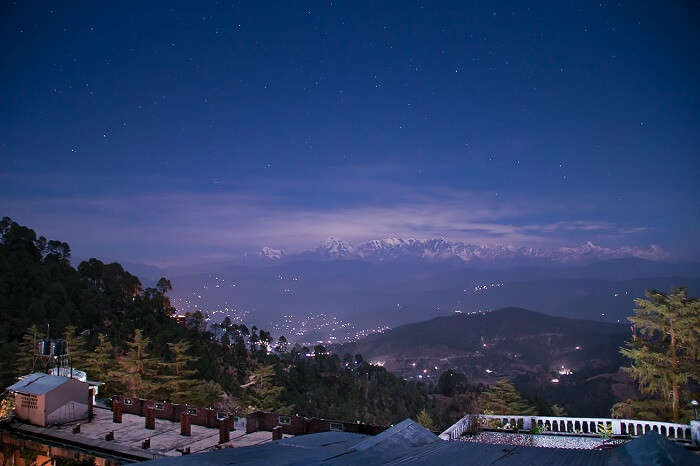 It doesn't take longer than a single glimpse of the views the of the surrounding hills to convince yourself to visit the quaint hill station in Uttarakhand. After all, it is under the sheath of the crimson sun & floating clouds that the green town of Kausani lies. But for those who always want more convincing, these reasons should suffice.
a. Kausani offers a panoramic view of the massive Himalayan peaks.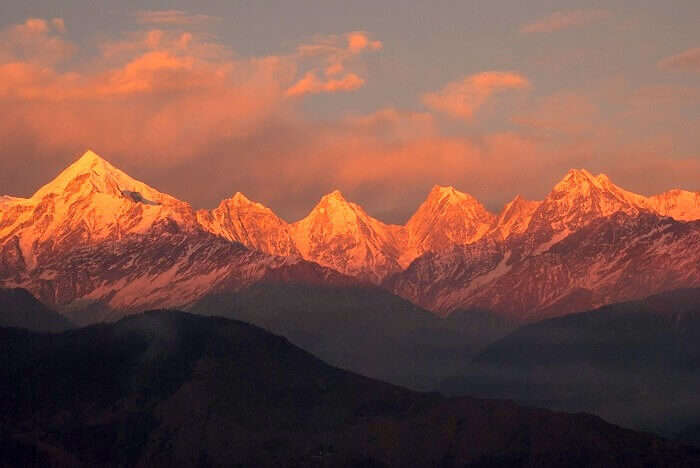 The magical glimpses of Bandarpoonch, Trishul, and Panchachuli peaks can best be enjoyed from here. Views of Nanda Devi, Badrinath, and Kedarnath also enchant the travelers to the core. But the glory of the snow-capped Himalayas reaches its pinnacle only when the sun rays of the setting sun turn them into red-orange during sunset and an even more beautiful gold at the time of sunrise.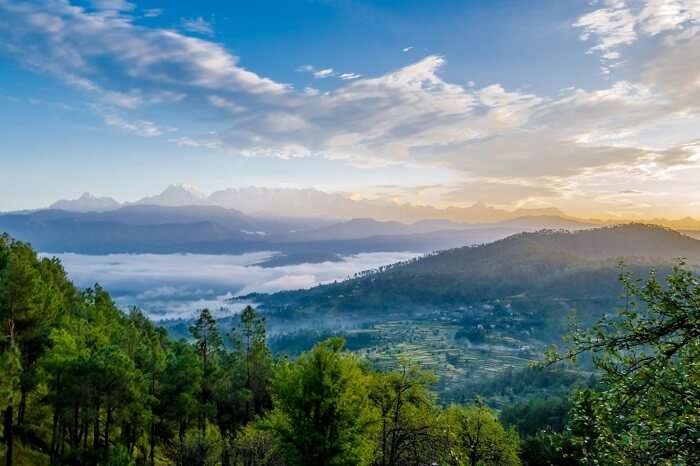 Must Read: Reasons Why A Weekend Trip To Kausani Will Totally Spoil You
b. You can trek up to the Rudradhari falls & caves.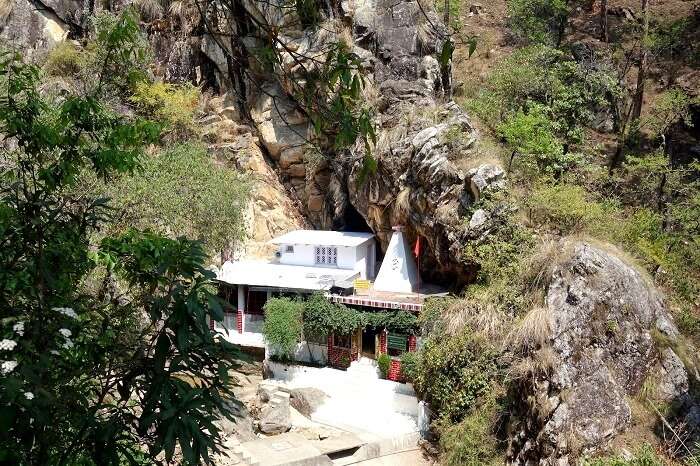 An easy trek from the main town of Kausani will take you to the scenic cave temple & waterfalls of Rudradhari in Adi Kailash Region. Another trek that you can take here is from Bageshwar to Sunderdhunga.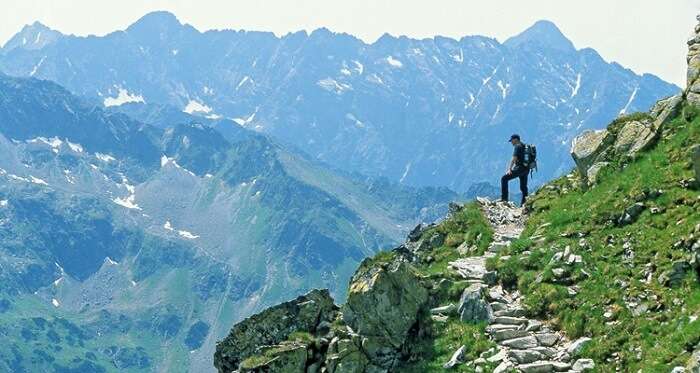 Must Read: 6 Exciting Things To Do In Kausani For A Fullfiling Retreat
c. There are many other temples & other tourist attractions in the tiny town.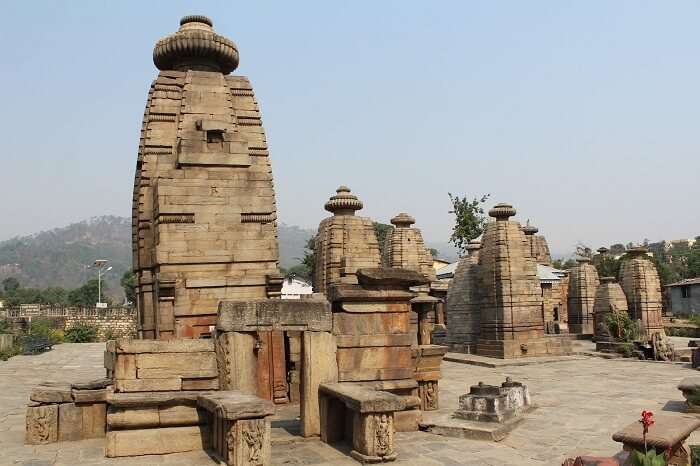 Someshwar temple, Baijnath temple, and Kot Bhramari Temple are the other temples in the region. Other than these religious sites, there are some museums and ashrams as well. These include Anasakti Ashram (Gandhi Ashram), Lakshmi Ashram, and Sumitranandan Pant Gallery.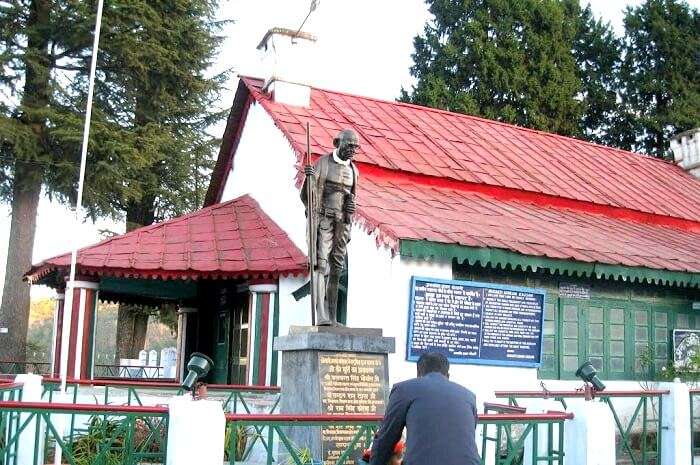 9. Ranikhet: The land of the legend of Queen Padmavati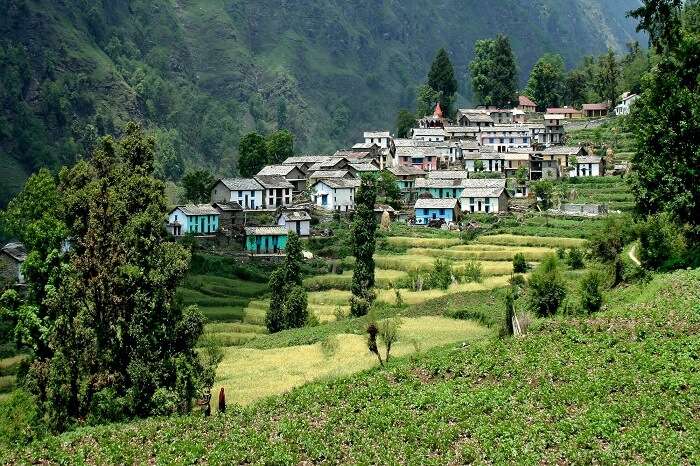 Legends talk about Queen Padmavati of Kumaon who was so fascinated by the beauty of the tiny hill station that King Sudhradev built a palace for the queen and gave this place its current name – Ranikhet. Though when the British rediscovered it years after it was lost in oblivion, no palace could be found. And the place went on to become a cantonment area. However, with the passage of time, its healthy climate and serenity of its vast green meadows started alluring the city-dwellers.
a. Camping is always fun when the destination is beautiful and less crowded.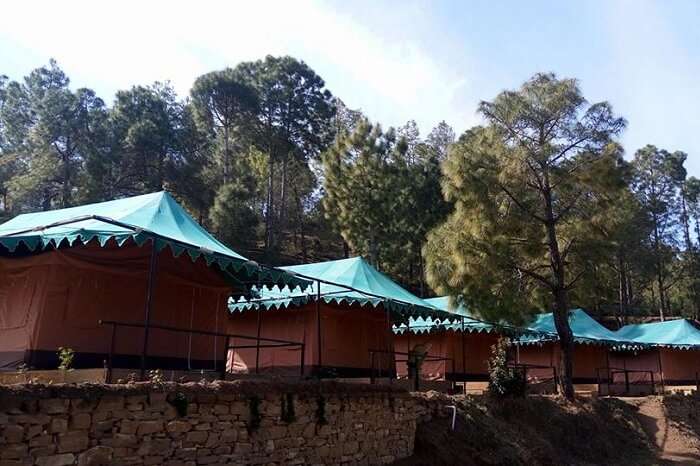 The destination is downright captivating; thanks to its green meadows and peaceful surroundings. Camping in such a destination is only something that every traveler would want from a weekend getaway. And, with tourism slowly starting to develop here, the destination started offering some fun activities. These include Mowgli walk, volley ball, badminton, cricket, rappelling, and valley crossing.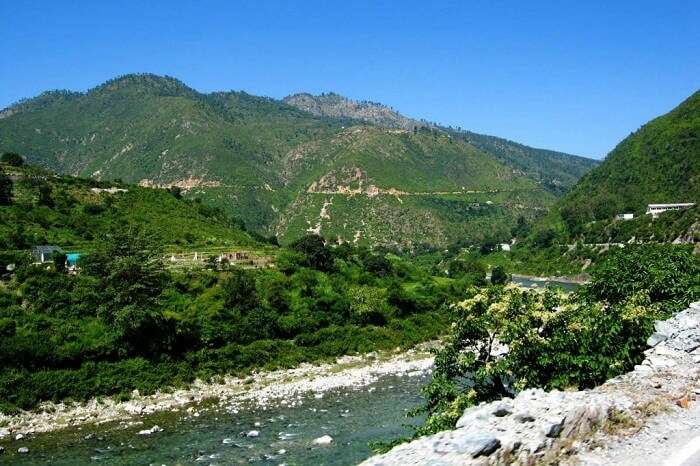 b. The tourist attractions include both religious centers as well as fun places.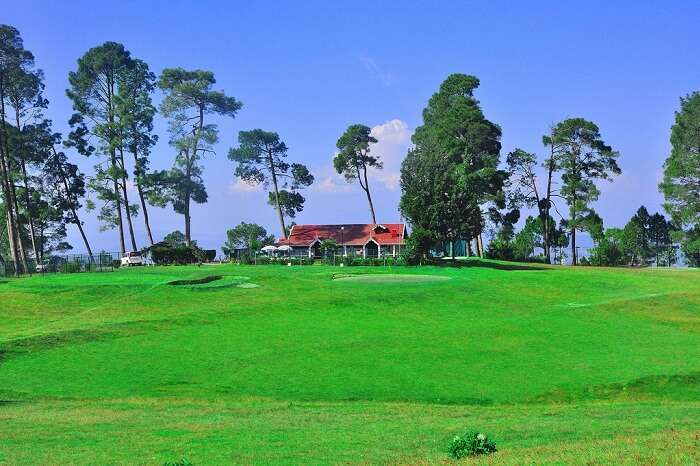 The destination also boasts of one of the best 9-hole golf greens in the country. Chaubatiya gardens, Haidakhan Temple, and Jhula Devi Temple are some other attractions of the beautiful hill station.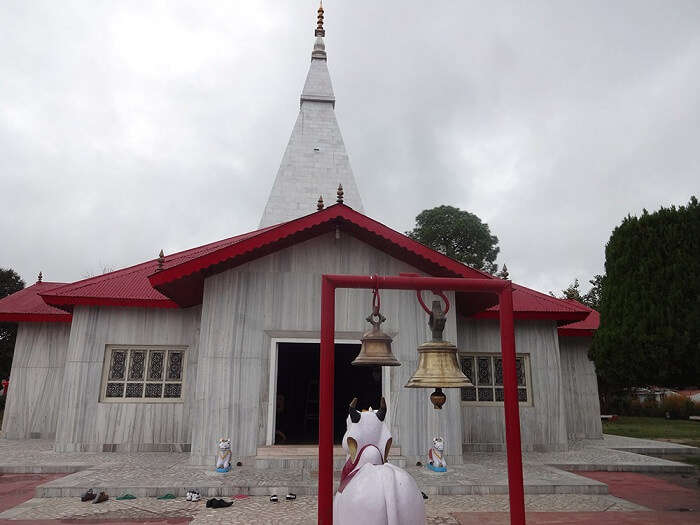 10. Shimla & Chail: The Queen of Hills & its faithful neighbor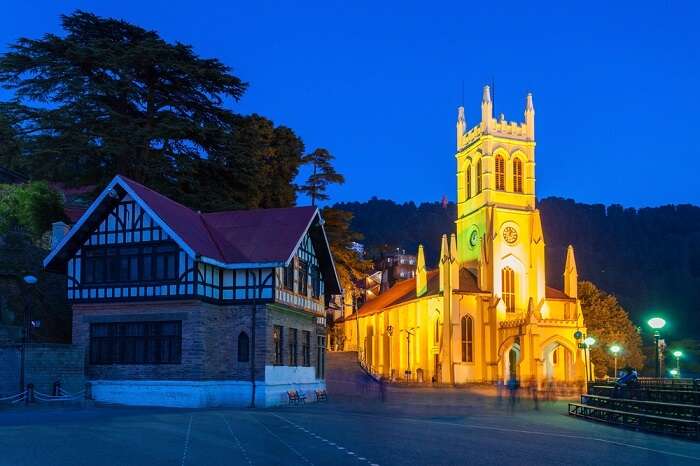 Not much needs to be said about Shimla & Chail. Not because there isn't much to talk about, but because you'd already know what we are going to tell. While the various places to visit in Shimla and the pleasant climate of the Himachal capital make it an obvious choice for a weekend getaway from Delhi, Chail – Shimla's underrated neighbor – finds its way into this list for just as many reasons.
a. Needless to say, the two hill stations offer splendid views.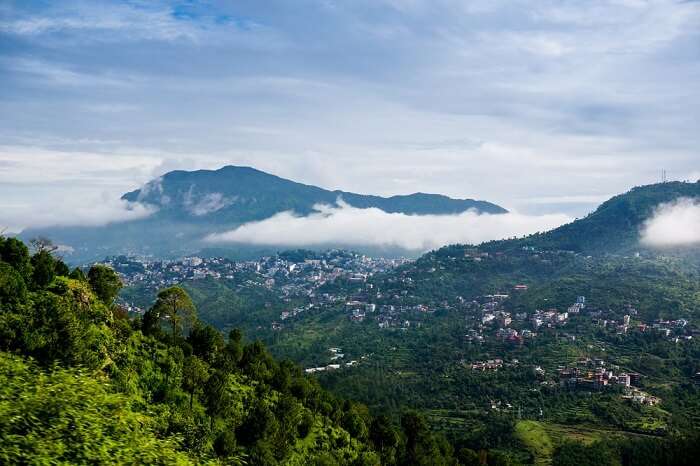 Lush greenery, breathtaking water bodies, and snow-clad hills are almost synonymous to most places in Himachal. And these two hill stations are no different. Chadwick falls, Sadhupul Lake, Jakhoo hill, Shailey Peak, Chail Wildlife Sanctuary, and Himalayan National Park in Kufri are some of the attractions that the nature lovers find alluring.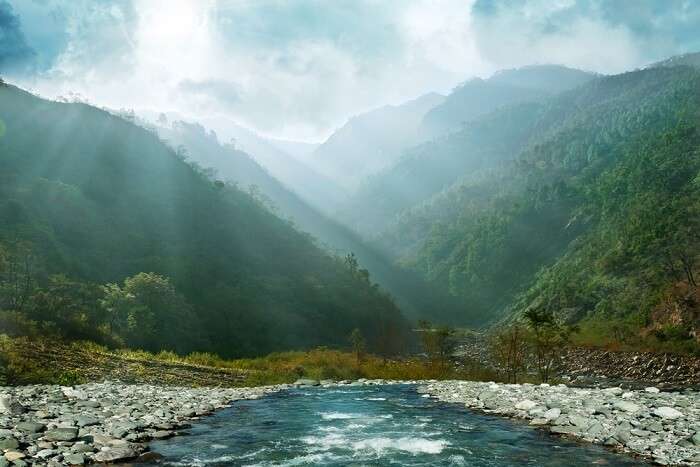 b. The tourist places here are known worldwide for many reasons and not just their beauty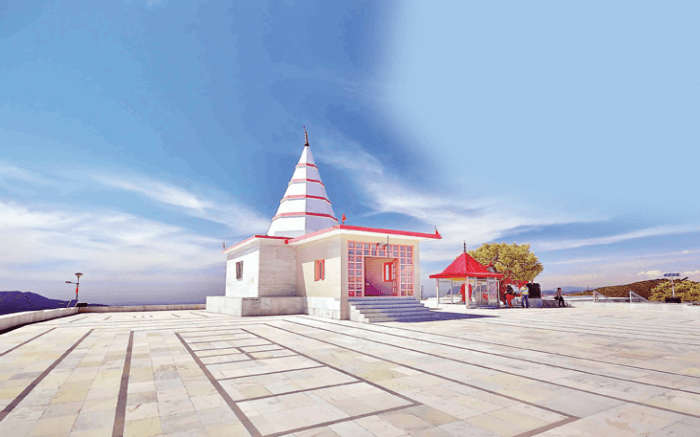 Both the destinations have their share of natural and manmade attractions. Kali Ka Tibba, Siddh Baba Ka Mandir, Sadhupul Lake Restaurant, Chail Palace Hotel are some of the best places to visit in Chail. However, the most popular attraction here is the cricket stadium that is said to be the highest cricket stadium in the world.
Likewise, Indian Institute of Advanced Studies, Annandale, Scandal Point, and The Shimla State Museum are the prime attractions of Shimla.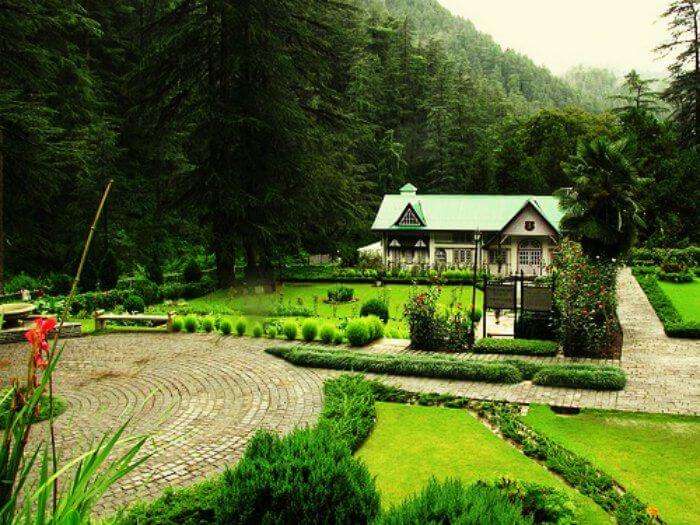 c. You will be surprised to find that there's still a lot to do here other than just sightseeing.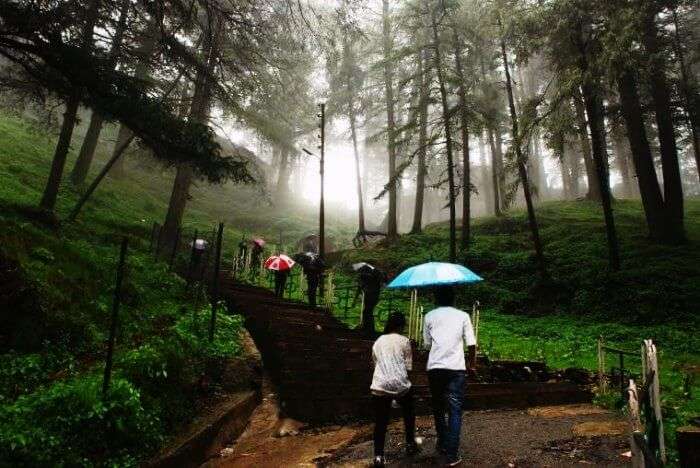 Hiking through the forests, trekking upto Jakhoo hill or to Chadwick falls, and rafting at Tattapani are some of the best things to do in Shimla. And then there's always the Mall Road to walk on and shop from.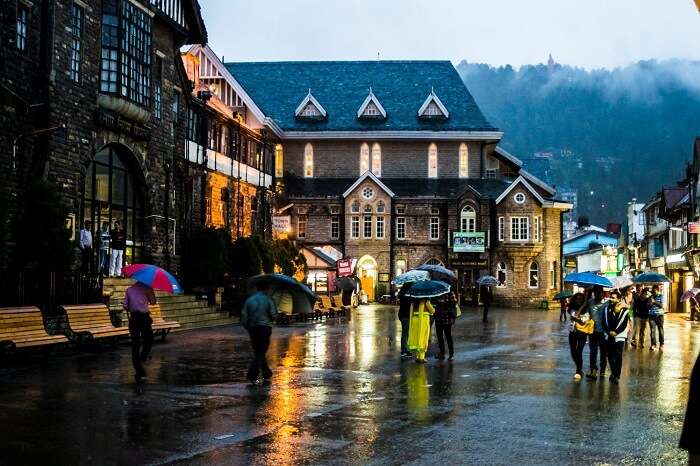 Suggested Read: These 20 Resorts In Shimla Will Help You Plan A Scenic Escape In 2022
II. Long weekend getaways from Delhi
Still wishing if only you could visit that amazing hill station in 2022? Well, make the most of the long weekend this Republic Day and strike off that destination from your bucket list. You don't even have to apply for unnecessary work from home or call in sick to cover these weekend trips from Delhi. Leave from Delhi on the evening of 25th January (Thursday) and you can easily be back by 28th August (Sunday). Mcleodganj, Kasol, Tirthan, Dalhousie, Jim Corbett, and Manali are some of the weekend getaways that fall on this list.
11. Manali: A treat for adventure seekers, couples, families, & more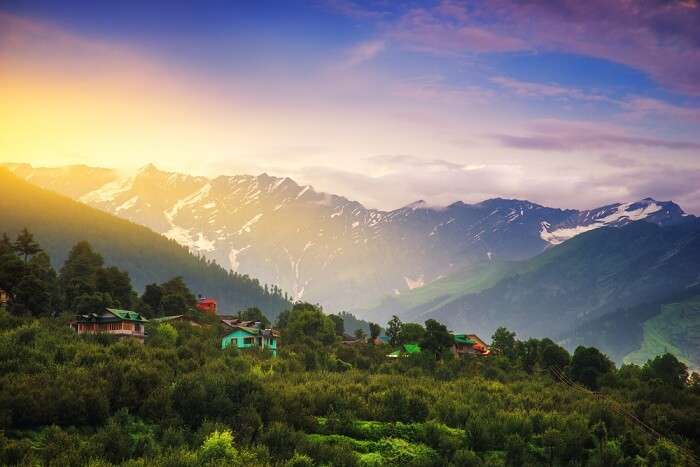 The destination hardly needs an introduction. Located on the banks of the river Beas in Himachal, Manali is a gateway for adventure in Solang & Rohtang and trekking in Parvati Valley. And there are plenty of religious attractions in and around Manali as well. All in all, the destination gives enough reasons for travelers to go for a long weekend trip from Delhi to Manali.
a. To begin with, Manali has a lot of tourist attractions to offer.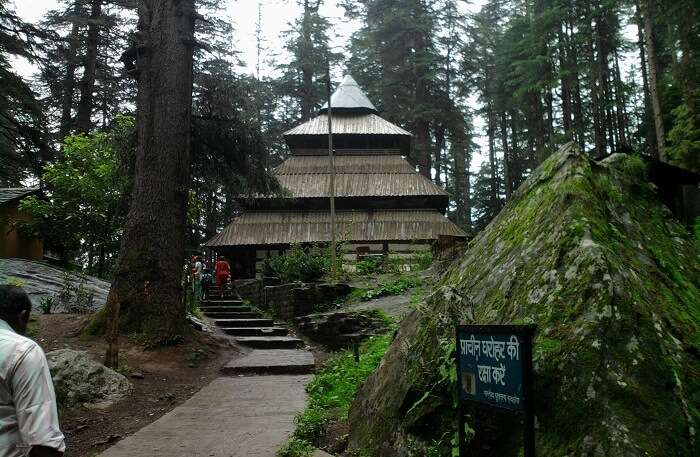 There's something or the other for travelers of varied interests. Temples like Hadimba Temple, Manu temple, Vashisht Temple & hot springs, and Manikaran Sahib gurudwara & hot springs in this region attract the religious travelers. There are also many Buddhist monasteries around.
Jogini & Rahala waterfalls and Nehru Kund, along with the lofty mountains & beautiful valleys around, allure the nature lovers. And then there are museums and numerous other places to visit in Manali that keep things interesting for the travelers.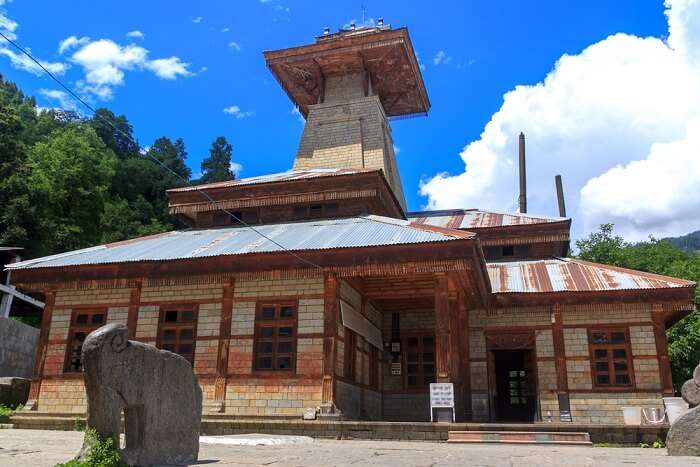 Must Read: A Fun-Filled 4 Days Solo Female Trip To Himachal
b. And it serves as a gateway to many more destinations nearby.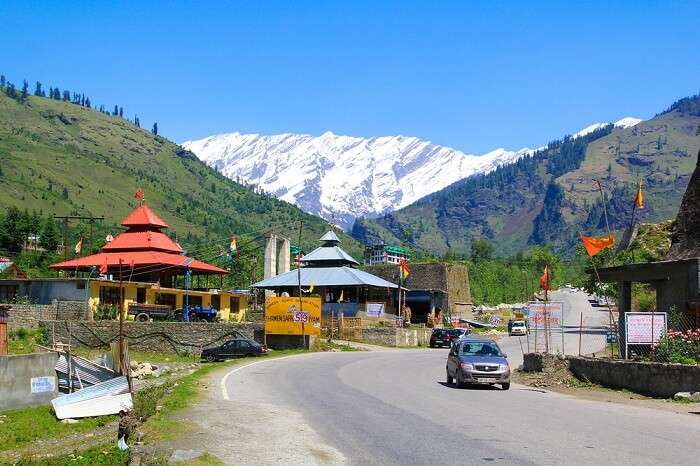 Solang Valley, Rohtang Valley, Gulaba, Kothi, Manikaran, Vashisht, & Kullu are all located very close by and can be covered along with Manali in the same trip. Depending upon the time in hand, you can choose to visit one or more of these destinations.
Must Read: 37 Awesome Things To Do In Manali In 2022 For Solemn Joy
c. The thrill factor is never less; with the myriad adventure activities offered here.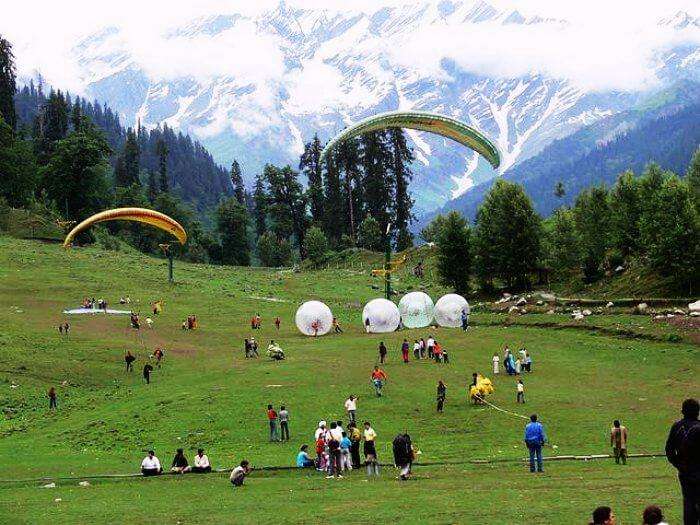 Adventure junkies can try a whole lot of adventure sports in Manali and around. These include river rafting, paragliding, hiking, skiing, etc.
---
Planning your holiday but confused about where to go? These travel stories help you find your best trip ever!
Real travel stories. Real stays. Handy tips to help you make the right choice.
---
12. Mcleodganj: So beautiful & serene; even Dalai Lama decided to reside here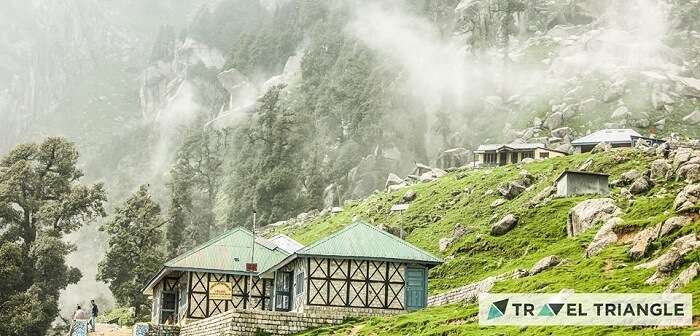 They say that all good things come in small packages. And the same is true for Mcleodganj often called the 'Little Lhasa'. Its scenic location in the Himalayas, pretty monasteries, and happening markets are unknown to nobody; least of all the socially active North Indians. But those who really want to enjoy the popular weekend getaway from Delhi will have to get out of the market area and head to Dharamkot & Bhagsu or take the Triund trek.
a. The landscape is stunning and the very atmosphere; refreshing.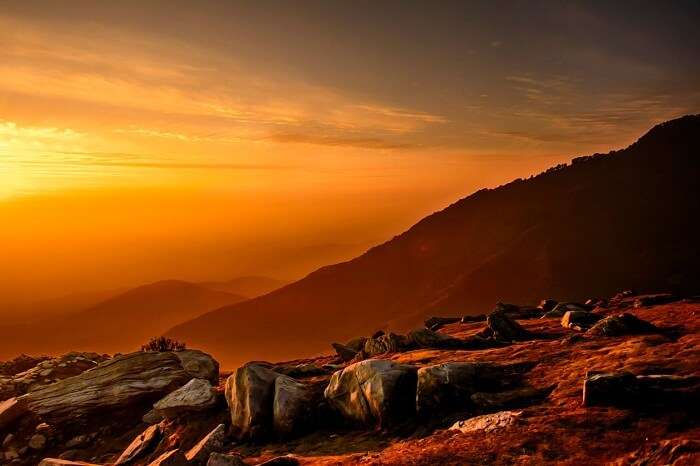 From the main Mcleodganj town to the Triund hilltop and from the Bhagsu village to the cute little village of Dharamkot; scenic views are guaranteed on a trip to this destination. Don't forget to catch the beautiful sunrises and sunsets from Triund hill.
b. The time is perfect for stargazing.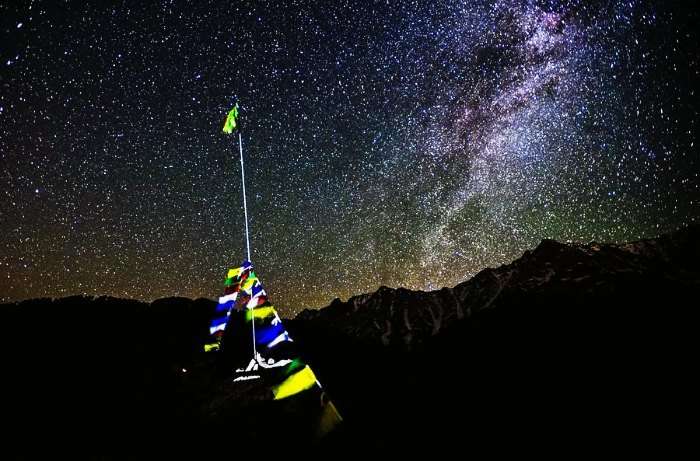 The weather in August is pleasant. It is neither hot nor too cold. And the clear skies mean you can enjoy starry nights in the hills.
Must Read: Trip To McLeod Ganj: Travel Tale Of A Full-Time Mother And Her Weekend Escape Into Nature's Paradise
c. Camping in Mcleodganj, on the way to Triund, is definitely a fun experience.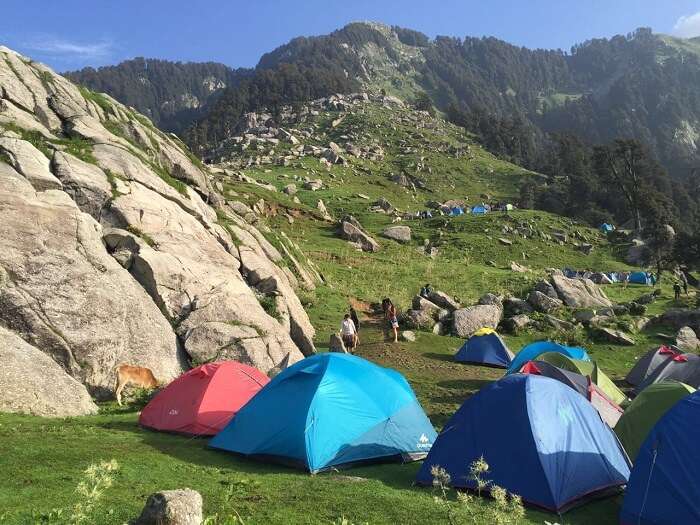 Bonfires with live music, stargazing, and gorgeous views of sunrises & sunsets are some of the attractions that make a camping experience in Mcleodganj truly worth it!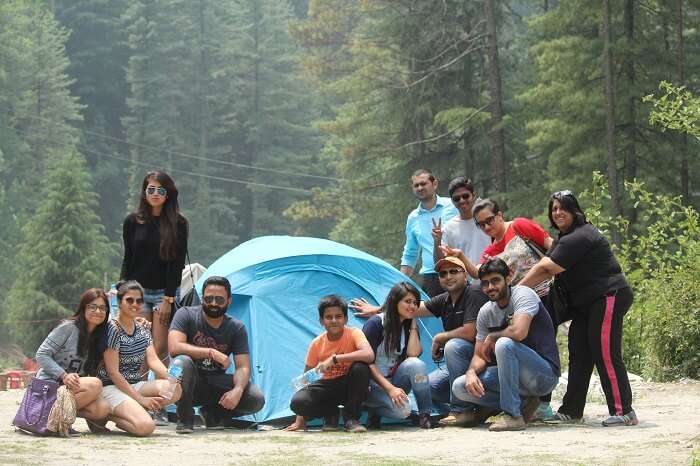 Must Read: Trip To Mcleodganj & Triund Trek: Tejal's Joyful Weekend Escape
d. And let us not miss out on the Triund trek itself.
An alluring trekking destination, Triund is beautifully nestled in the lap of the Dhauladhar Range. The moderately challenging Triund trek offers jaw-dropping views of the lofty ranges on one side and the splendid Kangra valley on the other.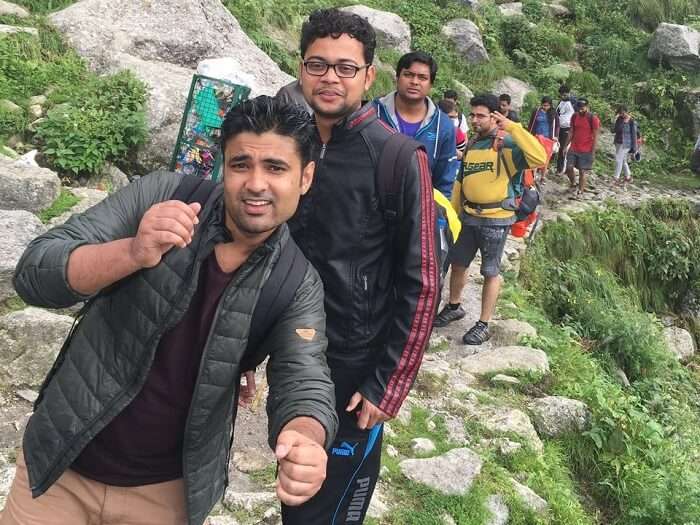 Suggested Read: Jessie & Her Faithful Stalker: A Life Changing Himalayan Expedition
e. For the less adventurous ones, there are other tourist attractions here.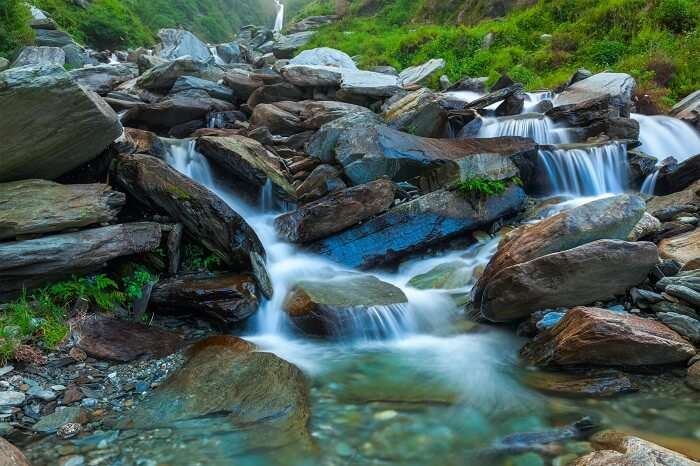 Bhagsunath temple & waterfall, Namgyal Monastery, Dal Lake, and Shiva Cafe are some of the other attractions of Mcleodganj. Its monasteries, Library of Tibetan Works & Archives, Tibetan Institute of Performing Arts, and even local cafes are highly influenced by the Tibetan culture.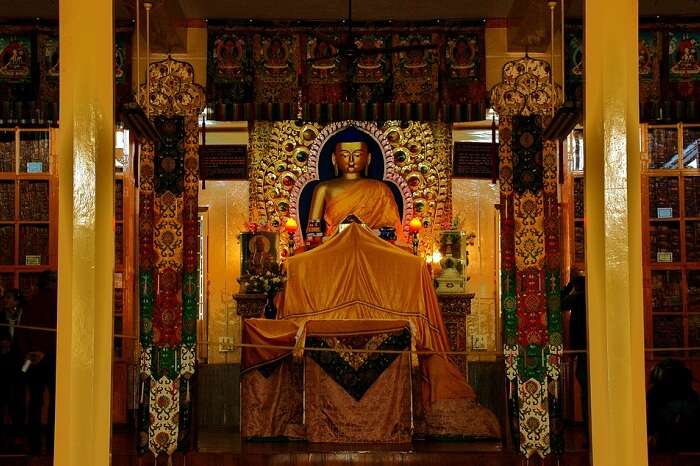 Suggested Read: Triund Trek: A Trekking Paradise For Experts & Beginners To Explore In 2022
f. Even the eateries here are just as famous as the trek and the monasteries.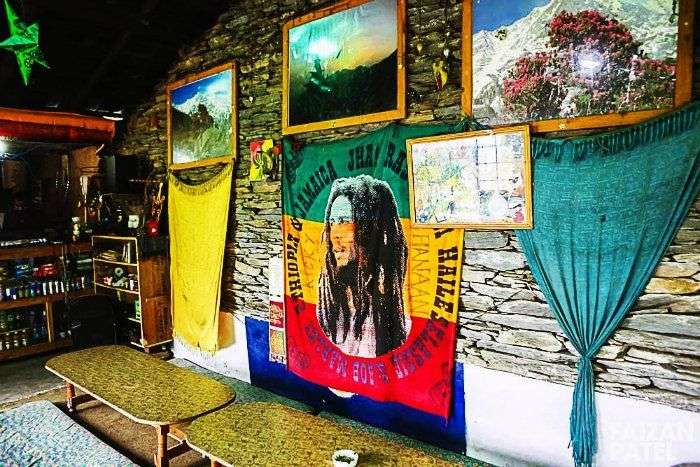 We are talking about the famous Shiva Cafe, of course. Jam sessions and art exhibitions alone attract tourists here. And the food is delicious too.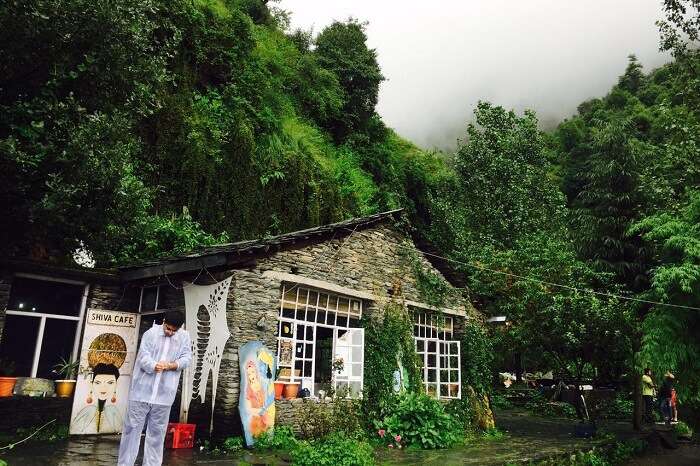 13. Jim Corbett: The perfect place for some jungle fun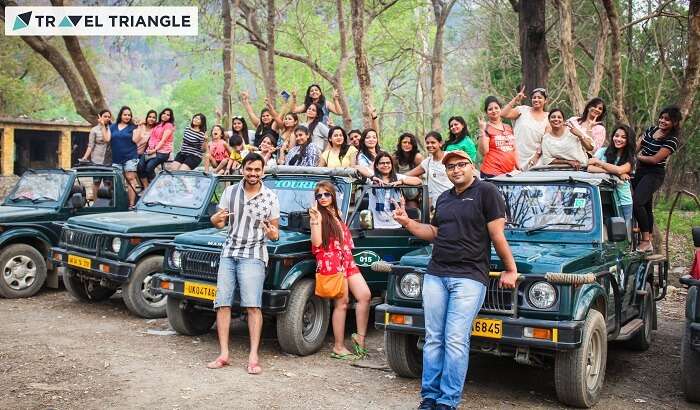 One of the most popular weekend getaways from Delhi, Jim Corbett welcomes tourists of all ages around the year. What makes it a popular name in the long list of national parks in India is the fact that there the park is home to the Royal Bengal tigers. However, several species of deer, leopards, jackals, red foxes, black bear, sloth bear, and monkeys are more easily spotted here.
a. Jeep safaris in the forest is an experience that one must try at least once.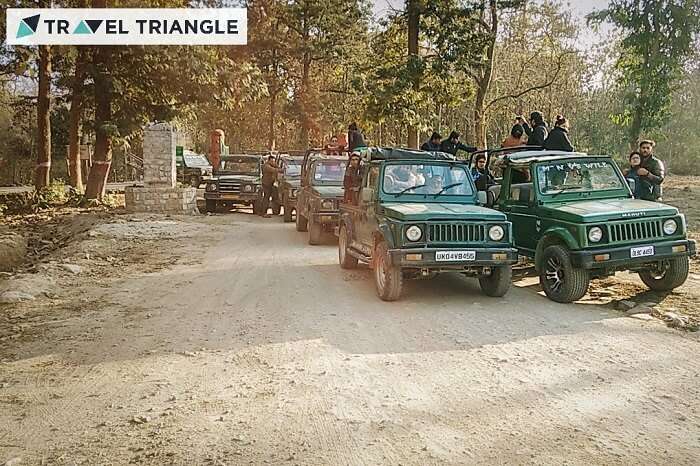 Ride through the forested area in the national park in jeeps to witness a wide variety of animal species in their natural habitat. If you're lucky enough, you'll also be able to spot some tigers here.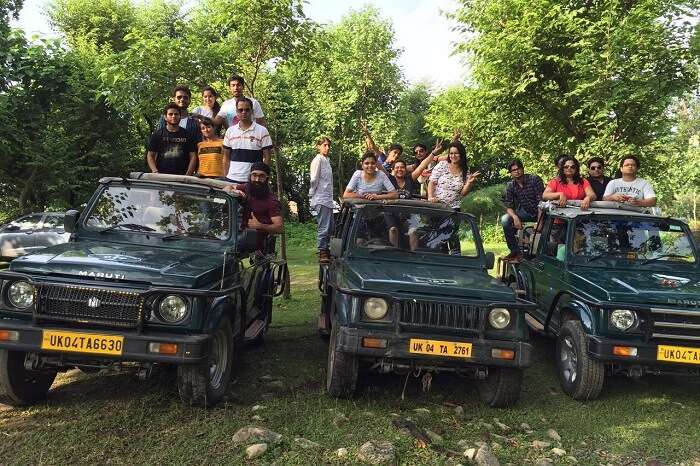 b. And there's also the river Kosi for those who want to chill by the riverside.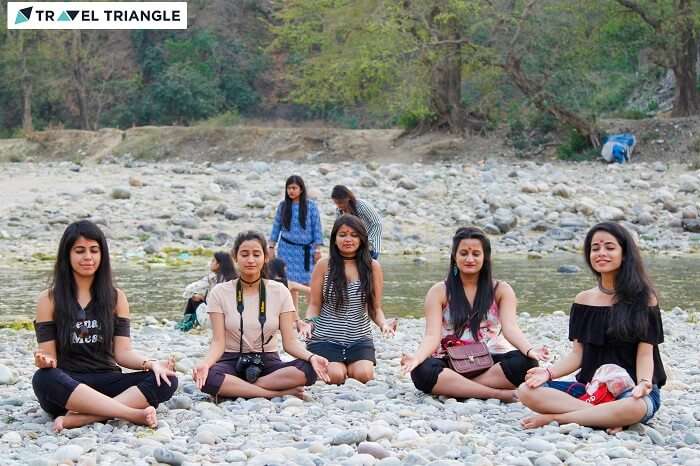 The tigers of the Jim Corbett National Park are the highlight of the park. But there's also the beautiful river Kosi that flows in that area. It is perfect to relax, have a picnic, or indulge in some group activities. Located by the riverside is the Garjiya Devi Temple. Travelers can also take short treks from the river to the Corbett Waterfalls.
Must Read: All Girls Trip To Jim Corbett: A Weekend Escape In The Heart Of Nature
c. The resorts in Jim Corbett provide comfortable stay options with all modern amenities.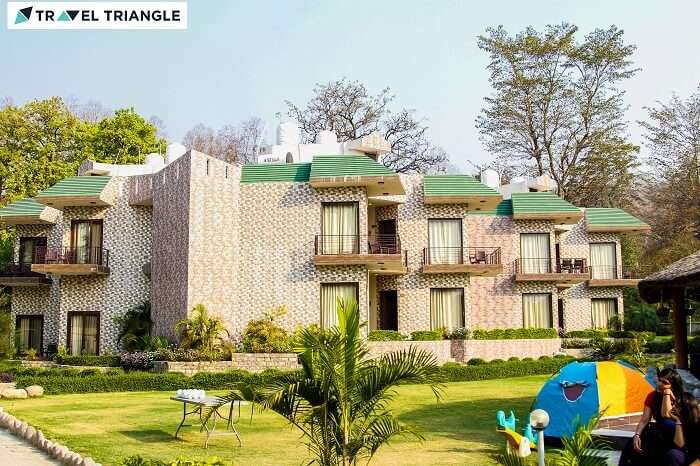 There are some top-notch resorts in Jim Corbett that provide all world-class facilities. Corbett Jungle Club Resort, Corbett Aamod Resort, Corbett River Creek Resort & Spa, and Corbett Leela Vilas are some of the best resorts here that ensure a comfortable stay at affordable prices.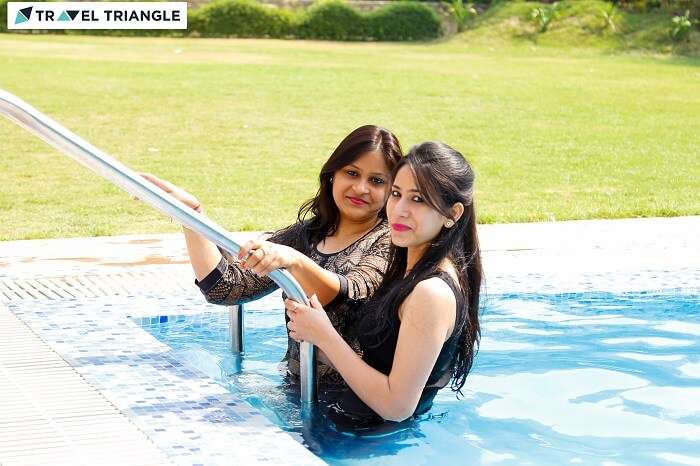 d. The bigger the group, the more fun can be expected from this trip.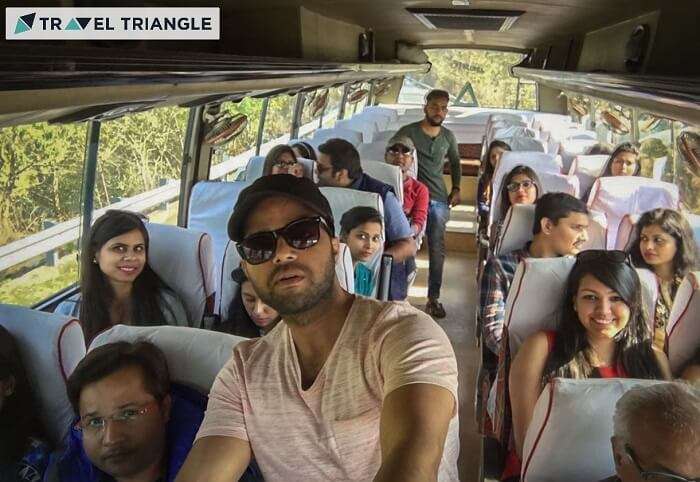 Group outings are always fun where there are such adventures involved. If you don't have a group of your own, you can always take a group weekend package of Jim Corbett and make new friends on your journey. And your safari selfies with new friends will give some serious selfie goals to even Dhinchak Pooja.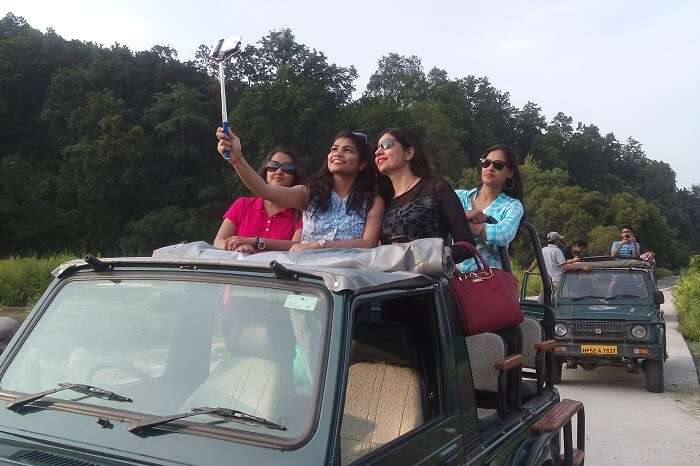 14. Kasol, Kheerganga, Tosh: Delightful hamlets of Parvati Valley for the backpackers
The last decade or so has seen a rise in the number of travelers and backpackers visiting the Parvati Valley, particularly Kasol. And, even more recently, destinations in Parvati Valley like Kheerganga, Tosh, and Chalal have slowly been attracting more & more travelers. And the reasons that inspire these travelers to visit these hamlets in the valley are way too many in number.
a. The landscape of Kasol is stunning with green valleys surrounded by snow-clad mountains.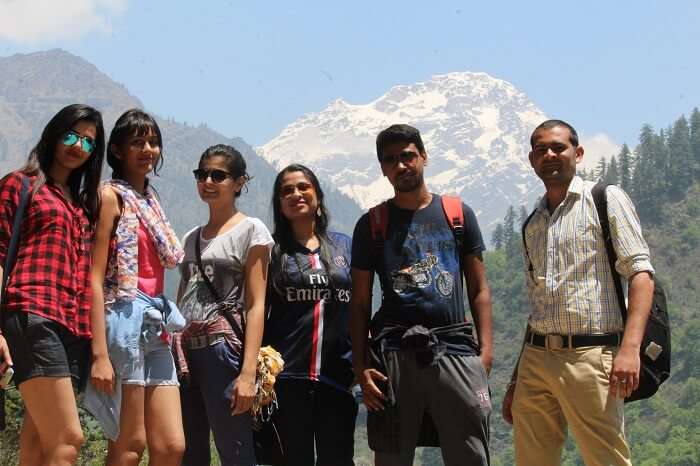 The post-monsoon scenery in Kasol is truly beautiful. The fresh dew on the grass and the snow-fed river waters passing through the Parvati Valley never fail to allure the travelers. Similar scenes are visible in Kheerganga, Tosh, and other nearby areas. There's also a waterfall in Tosh that is downright stunning.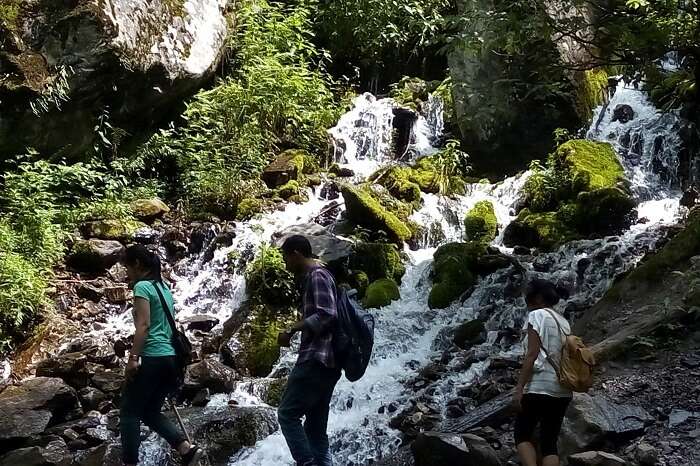 Here's what Isha had to say when asked about her all girls' trip to Kasol.
b. And the rustic charm of the houses built in these villages adds to the beauty of the valley.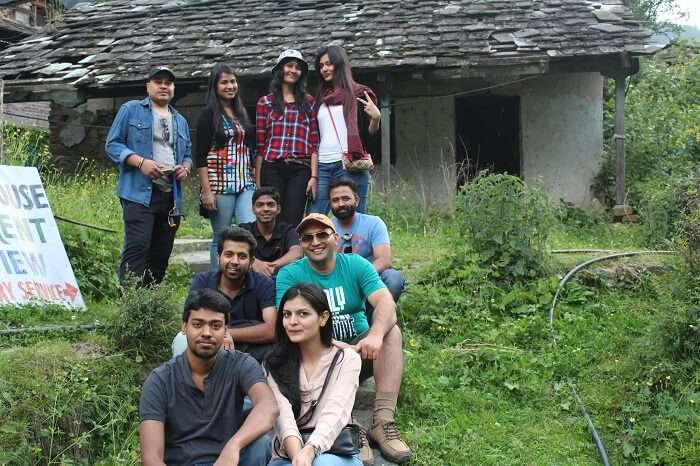 These rustic houses amidst the greens of the Parvati Valley have an aura of serenity attached to them. And the wooden-roof structures beautifully complements the otherwise green valley landscape.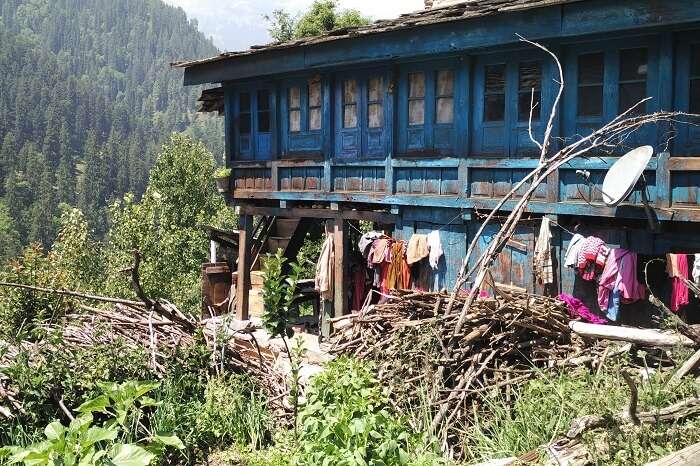 Suggested Read: A First-Timer's Guide To Kasol: Things To Explore, Eat And Experience In 2022
c. Moreover, the travelers can go trekking up to to Kheerganga and Tosh.
From Kasol, travelers can go for some easy treks to Chalal, Tosh, and Kheerganga. The hiking trails pass through the forested areas and past the river & waterfall; thereby providing scenic views en route. And the hilltop views from either of these sites are just as beautiful.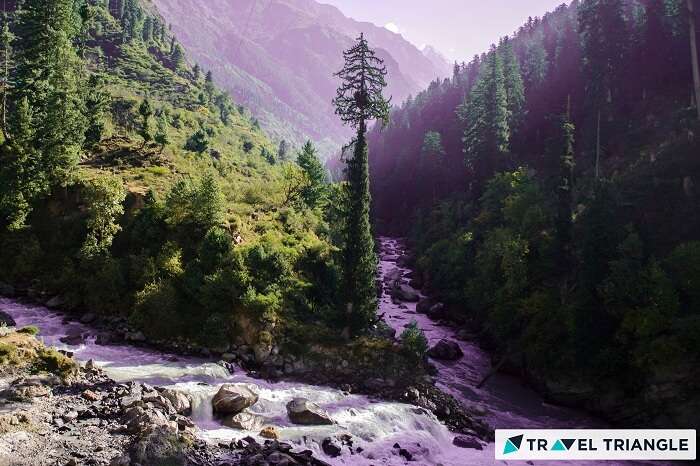 Suggested Read: Kheer Ganga Trek 2022: Whispers From The Parvati Valley!
d. Though solo travelers can enjoy such trips on their own, it is always better to have a bunch of others hiking along.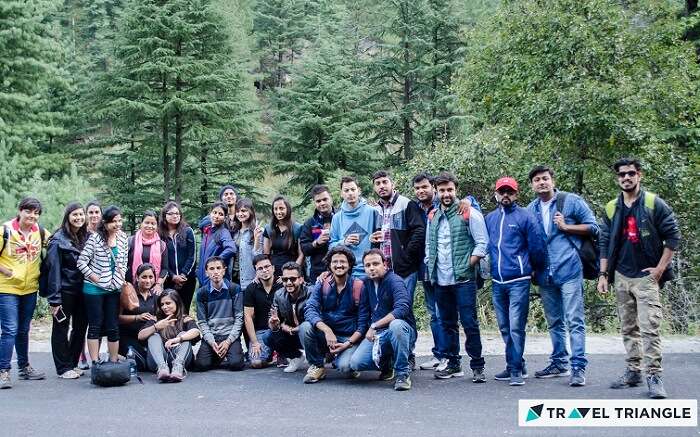 And it is not just about safety. When you have company, the journey definitely seems all the more wonderful. After all, nobody minds some extra bit of fun, right?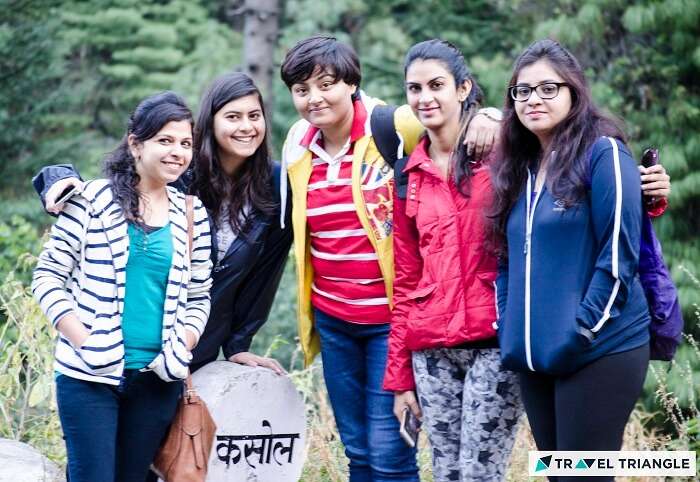 15. Tirthan: An underrated destination of virgin beauty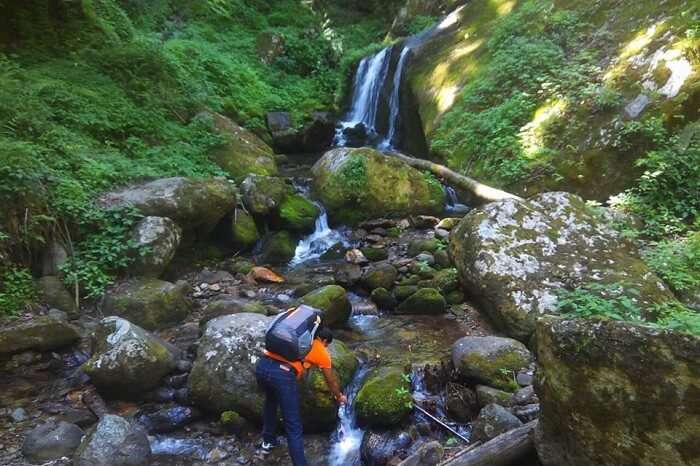 It is really hard to trace the point in history that led to the rise of Tirthan as a weekend holiday destination for travelers and backpackers from Delhi. But there are reasons galore for the same. Eco-tourism, fun-filled activities, and tourist sites such as Jalori Viewpoint, Serolsar Lake, Tirthan waterfalls, Goddess Budhi Nagin temple, & Great Himalayan National Park have all contributed in making this quaint village an upcoming holiday destination in the North.
a. Care for some easy hikes through the woods? You can get them here.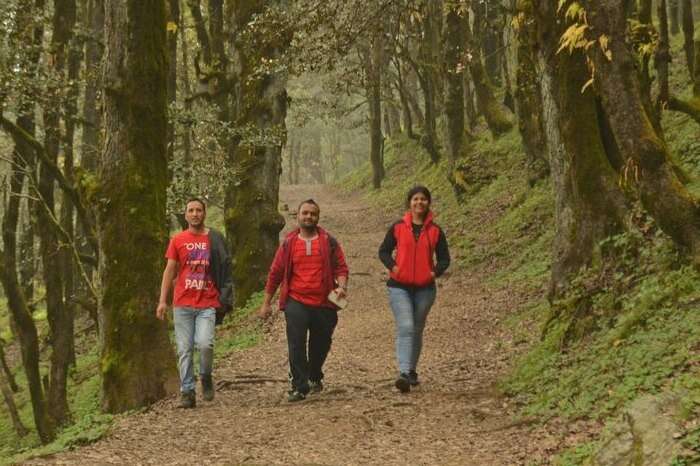 The moderately steep hills surrounding the Tirthan Valley are covered with tall trees through which well-defined trails pass. These trails allow the travelers to go for some short hikes and treks.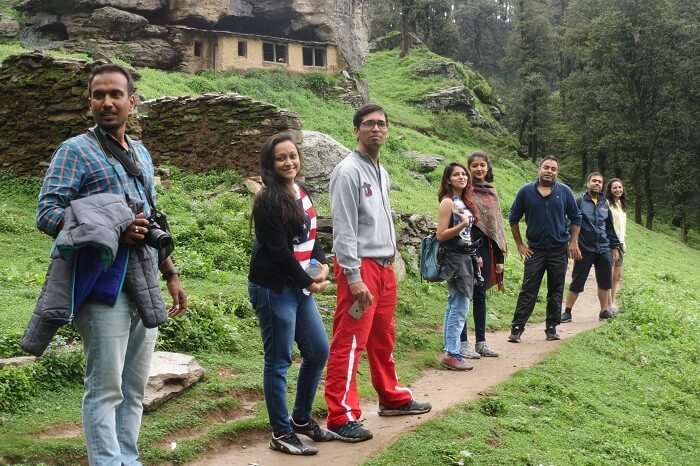 b. The valley is dotted with water bodies like Serolsar Lake and Tirthan waterfalls.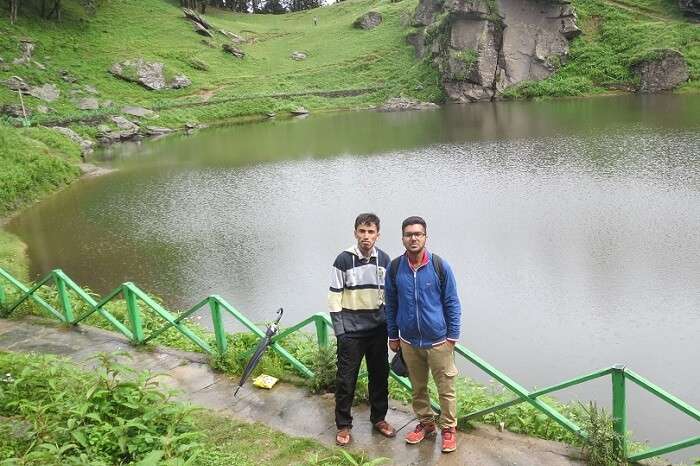 These water bodies perfectly complement the greens of the valley and the verdant hills around. Don't you think so?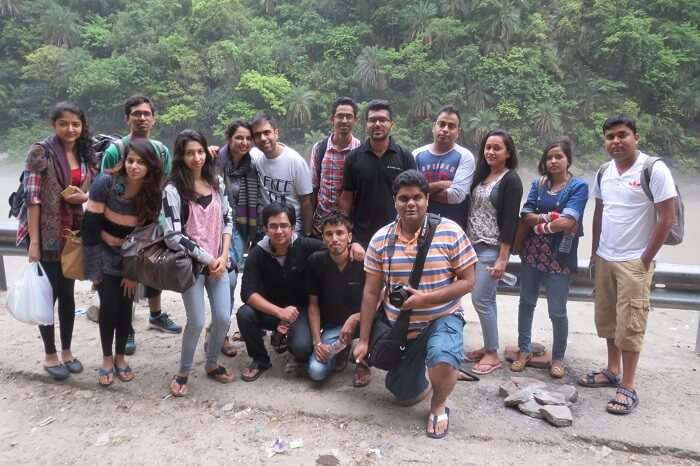 c. There's a lot that one can do in the lesser-known Himachal valley.
Yes! All that and a lot more! And when it comes to group trips, the fun quotient of these activities increases manifold. Don't believe us? Read what Akanksha Jain has to say about her trip to Tirthan Valley.
Do these weekend getaways interest you? If so, start booking your seat for a group tour to one of these destinations near Delhi for a perfect long vacation around Republic Day. Bon voyage, fellas!
Further Read: 16 Best Places To Visit Near Delhi In August For That Dreamy Escape In 2022
---
Long Weekend Trips Starting @ Rs 3,599/-
Take a trip to spend the upcoming long weekend with your buddies.
✓ Stay at 4 star rating hotels with local sightseeing, meals and transfers.
✓ Travel in AC coach round trip (from Delhi).
✓ All Inclusive Deal– Camping, Jeep Safari & Trekking as per itinerary
✓ Sign up NOW to celebrate the long weekend out of town!
---